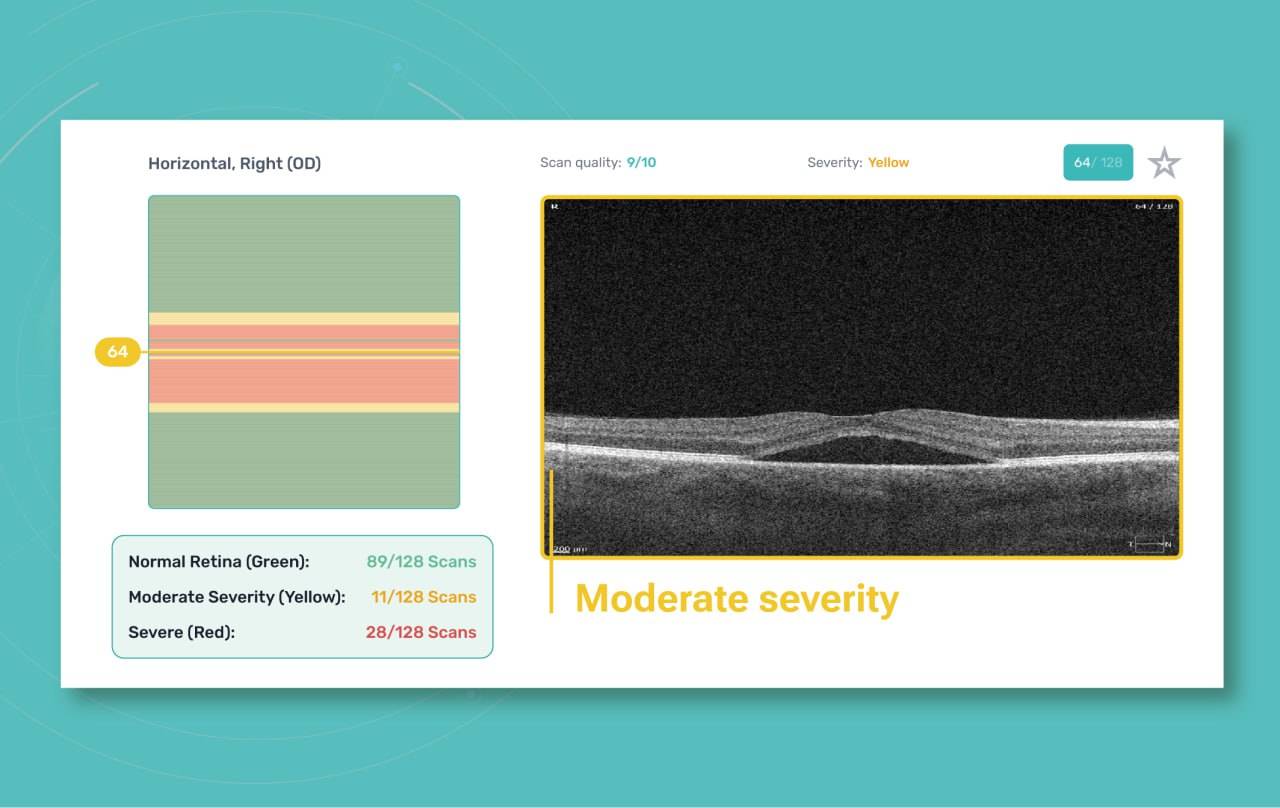 Altris AI is a web platform created by a team of retina experts supervised by Maria Znamenska, Ph.D. in Ophthalmology and the owner of the ophthalmic clinic.
The security of patients' data is our top priority: we are GDPR compliant, all data is encrypted, CE-certified, and FDA- cleared (510k).
Altris AI aims to enhance the expertise of eye care specialists and give them confidence in OCT interpretation: OCT in ophthalmology and optometry is finally easy. Altris AI transforms any eye care business into a high-tech and innovative enterprise.
Awards and video review
Our proficiency is proved by reputable organizations
The AI-powered ophthalmic image management system is an effective solution for any clinic that uses OCT equipment for diagnostics. It is implemented in 30+ modern eye clinics around the world and is used by thousands of eye care professionals all over the world.
Empowerment of each eye care specialist with modern Artificial Intelligence tool that gives confidence
More effective triage of patients 
Routine workflow optimization
Making eye care business truly high-tech and profitable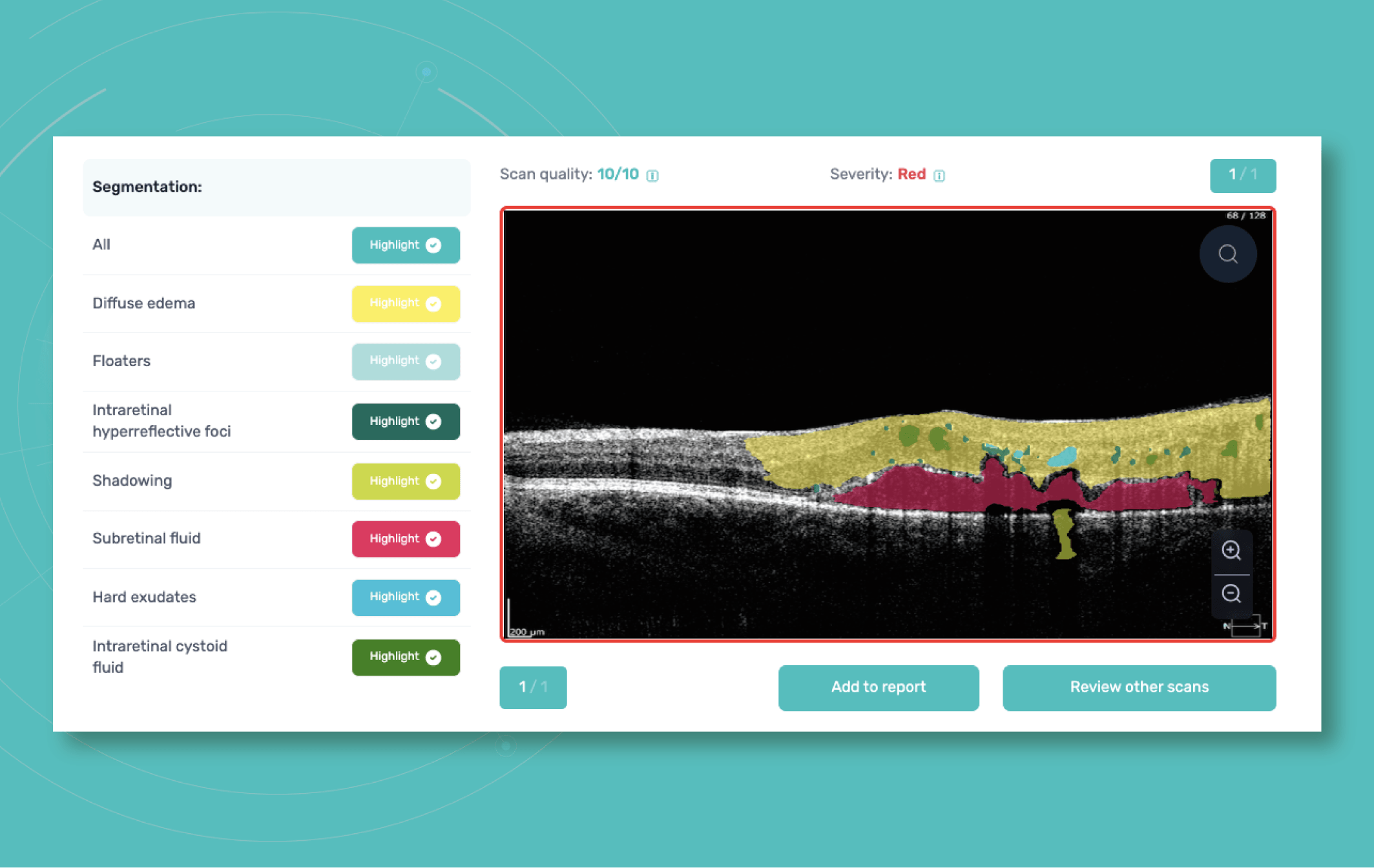 What's the value of Altris AI?
And how it works
Altris AI is a web platform created by retina experts for all eye care specialists in the world. We've collected millions of OCT scans, and our team graphically labeled thousands of them to create the Altris AI system that can:
differentiate between high, medium, and low-severity scans within a minute
detect 70+ pathologies and pathological signs, including some most widespread pathologies, such as Diabetic Retinopathy, as well as rare pathological signs
Formats

DICOM format will help you to extract maximum information. However, the system works with all data formats, such as jpg, and png

OCT equipment

Altris AI is vendor-neutral. We work with all the OCT equipment producers

OCT reports

We create comprehensible OCT reports for patients and doctors
Altris AI is a web application (doesn't work from a mobile phone)
No surprise fees, easy cancellation at any moment, 5 days of free trial
Bill Monthly
Bill Annually
Subscription
Number of OCT examinations
Services:
Personal Manager Support

Severity differentiation

Layers

EDTRS

Pathologies Segmentation + Classification

Progression Tracking EDTRS

Reports

Referral Score

Glaucoma Risk Analysis

Manual Measurements

Auto Measurements

Segmentation Area Calculation

Segmentation Volume Calculation

Progression Tracking Area+ Volume

Analysis Results Export

3D View
Number of OCT examinations

Detect 70+ Retina Conditions

Services:

Personal manager support

Severity differentiation

Layers

EDTRS

Pathologies Segmentation + Classification

Progression Tracking EDTRS

Reports

Referral Score

Glaucoma Risk Analysis

Manual Measurements

Auto Measurements

Segmentation Area Calculation

Segmentation Volume Calculation

Progression Tracking Area+ Volume

Analysis Results Export

3D View

Best choice

Number of OCT examinations

Detect 70+ Retina Conditions

Services:

Personal manager support

Severity differentiation

Layers

EDTRS

Pathologies Segmentation + Classification

Progression Tracking EDTRS

Reports

Referral Score

Glaucoma Risk Analysis

Manual Measurements

Auto Measurements

Segmentation Area Calculation

Segmentation Volume Calculation

Progression Tracking Area+ Volume

Analysis Results Export

3D View

For an eye clinic or an optometry

Instant value for the business


Onboarding training for the whole team

Unlimited number of OCT examinations: we adjust to your needs

DICOM files extraction support: we attune the process until it works

Customization (adding features your team needs). We make the system fir your needs.

Personal support throughout the whole process of digitalization

Cloud/ On-premises data storage for advanced security

Integration support with any EHR, EMR system

Marketing support: show that your eye care business is truly innovative
More than 40 retina conditions
Pathological signs
Pathologies detection
Up to 100 retina conditions
Pathological signs
Pathologies detection
More than 100 retina conditions
Pathological signs
Pathologies detection
More than 100 retina conditions
Pathological signs
Pathologies detection