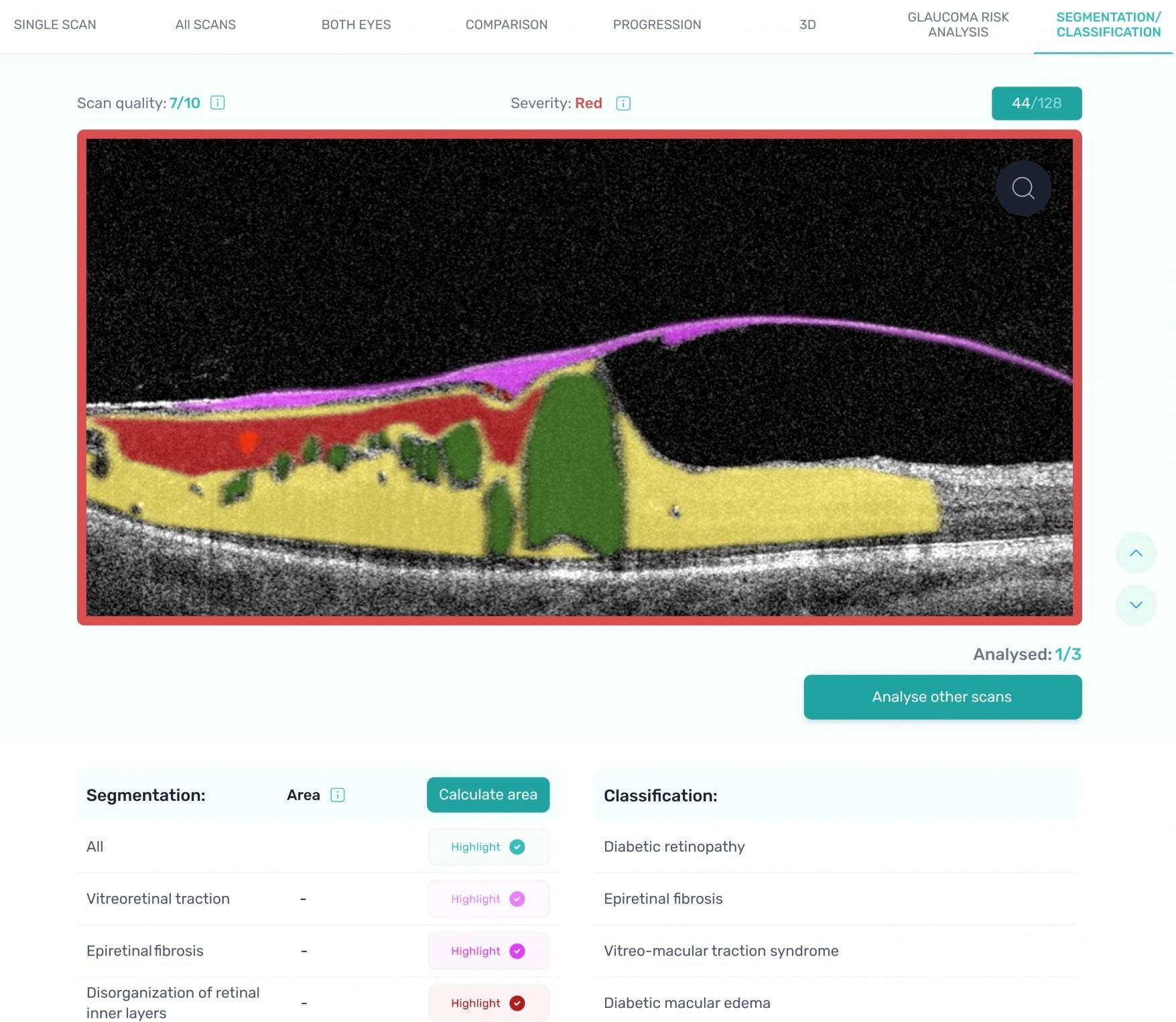 Altris AI can solve 4 most common pain points of OCT interpretation:
Help eye care specialists with controversial  OCT scans. Less time spent on complex scans and more accurate diagnoses are guaranteed.
Assist in finding minor, early, rare pathologies on OCT scans. It means that every patient who needs a follow-up examination and timely treatment will be provided with it.
Select only pathological scans saving precious time and accelerating OCT examinations.
Give confidence to eye care specialists who are in doubt about their  OCT interpretation skills.
Altris AI system has 3 core modules: screening, analysis, and reporting. During the screening, AI selects pathological scans automatically saving an incredible amount of time for highly qualified ophthalmologists and optometrists.
In the analysis module, it is possible to determine the probability of certain pathological signs and pathologies relying on the database of 5 mln OCT scans obtained in ophthalmic clinics. More than that, it is possible to define minor pathological signs that are sometimes missed or pathologies at the early stages.
The 3rd module generates innovative OCT reports comprehensive for both patients and eye care specialists.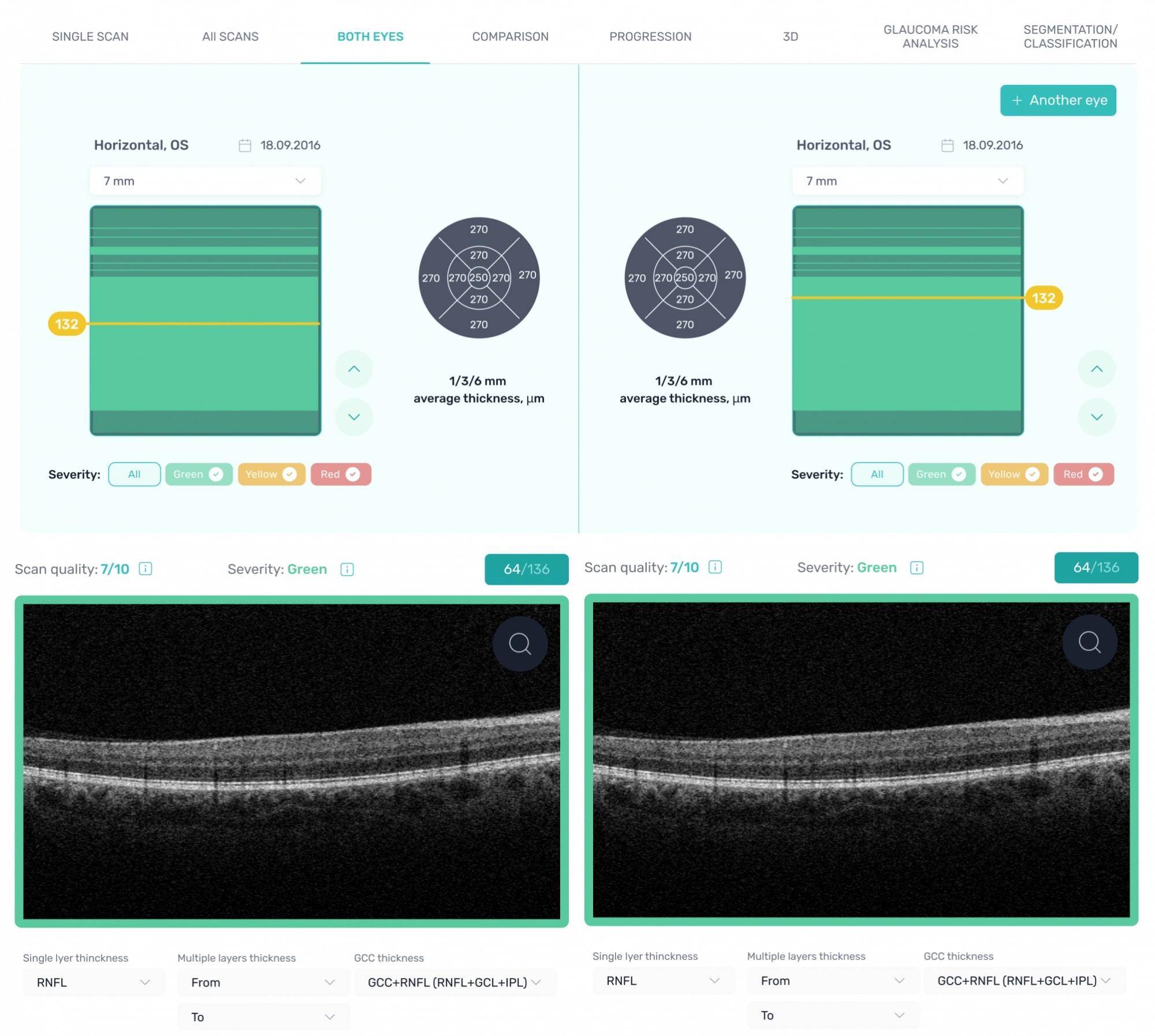 How it Works?
Altris is a unique ophthalmic image management system powered by AI
Altris algorithm is trained on the database of 5 million unique OCT cases obtained in 11 practicing ophthalmology clinics.
We improve the diagnostic process for ophthalmologists and optometrists by automating the detection of 54 pathological signs and 49 pathologies on OCT images.
With Altris AI, you will finally feel confident about OCT scans interpretation and will become a real professional in it.
Formats

The system works with all data formats, such as DICOM, jpg, and png, making the ophthalmic image management system more secure and efficient

Innovative OCT reports

We create OCT reports that are comprehensible for both patients and eye care specialists

Integration

The system can also be integrated with the EHR system or it can also work autonomously as a web application
Subscription
Choose your perfect plan. No contracts. No surprise fees.
Bill Monthly
Bill Annually
Pathologies Segmentation and Classification with AI
Retina conditions detected by AI
Services:
OCT screening with AI

Scan quality detection

Scans severity calculation with AI

Retina layers segmentation with AI

Retina layers thickness calculation with AI

Patient's data and case description

Analysis results storing

Advanced Reports

Both eyes analysis

Comparison analysis

Progression analysis

Pathology area calculation with AI

Pathology volume calculation With AI

Pathology X, Y measurements

3D model view

Pathology X, Y, Z measurements

AMD progression analysis

DR/DME progression analysis

Early Glaucoma risk analysis
Starter

Pathologies Segmentation and Classification with AI

Retina conditions detected by AI

Services:

OCT screening with AI

Scan quality detection

Scans severity calculation with AI

Retina layers segmentation with AI

Retina layers thickness calculation with AI

Patient's data and case description

Analysis results storing

Advanced Reports

Both eyes analysis

Comparison analysis

Progression analysis

Pathology area calculation with AI

Pathology volume calculation With AI

Pathology X, Y measurements

3D model view

Pathology X, Y, Z measurements

AMD progression analysis

DR/DME progression analysis

Early Glaucoma risk analysis

Basic

$249/month

You're saving: $498

$2490/Annual

You're saving: $498

Pathologies Segmentation and Classification with AI

50/month

Retina conditions detected by AI

40 retina conditions

Services:

OCT Screening with AI

Scan quality detection

Scans severity calculation with AI

Retina layers segmentation with AI

Retina layers thicknesses calculation with AI

Patient's data and case description

Analysis results storing

Advanced Reports

Both eyes analysis

Comparison analysis

Progression analysis

Pathology area calculation with AI

Pathology volume calculation With AI

Pathology X, Y measurements

3D model view

Pathology X, Y, Z measurements

AMD progression analysis

DR/DME progression analysis

Early Glaucoma risk analysis

$449/month

You're saving: $888

$4490/Annual

You're saving: $888

Pathologies Segmentation and Classification with AI

125/month

Retina conditions detected by AI

More than 100 retina conditions

Services:

OCT Screening with AI

Scan quality detection

Scans severity calculation with AI

Retina layers segmentation with AI

Retina layers thicknesses calculation with AI

Patient's data and case description

Analysis results storing

Advanced Reports

Both eyes analysis

Comparison analysis

Progression analysis

Pathology area calculation with AI

Pathology volume calculation with AI

Pathology X, Y measurements

3D model view

Pathology X, Y, Z measurements

AMD progression analysis

DR/DME progression analysis

Early Glaucoma risk analysis
More than 100 retina conditions
Pathological signs
Pathologies detection
Up to 40 retina conditions
Pathological signs
Pathologies detection
Diffuse edema

Double layer sign

Drusen

Epiretinal fibrosis

Fibrovascular RPE detachment

Floaters

Full thickness macular hole

Hard exudates

Intraretinal cystoid fluid

Intraretinal hyperreflective foci

Lamellar macular hole

Neurosensory retina detachment

Operculum

Photoreceptor layers abnormalities

Posterior hyaloid membrane detachment

Pseudocysts

Pseudohole

Retinoschisis

RPE atrophy

Serous RPE detachment

Subretinal fluid

Subretinal hyperreflective material (SHRM)

Vitelliform material

Vitreoretinal traction
Central retinal vein occlusion

Central serous chorioretinopathy

Choroidal neovascularization

Cystoid macular edema

Diabetic macular edema

Diabetic retinopathy

Dry AMD

Dry AMD - Geographic atrophy

Epiretinal fibrosis

Full thickness macular hole

Macular degeneration

Wet AMD
More than 100 retina conditions
Pathological signs
Pathologies detection
Chorioretinal folds

Chorioretinal scar

Confluent drusen

Cotton wool spot

Cuticular drusen

Diffuse edema

Disorganization of retinal inner layers

Double layer sign

Drusenoid RPE detachment

Ellipsoid zone disruption

Ellipsoid zone focal defect

Epiretinal fibrosis

Fibrovascular RPE detachment

Floaters

Focal choroidal excavation

Focal hyperreflectivity

Full thickness macular hole

Hard drusen

Hard exudates

Hyperreflectivity of neurosensory retina

Hypertransmission

Internal limiting membrane thickening

Intraretinal cystoid fluid

Intraretinal hyperreflective foci

Lamellar macular hole

Macular excavation

Microaneurysm

Neurosensory retina atrophy

Neurosensory retina detachment

Operculum

Outer retina tubulations

Posterior hyaloid membrane adhesion

Posterior hyaloid membrane detachment

Posterior hyaloid membrane detachment with operculum

Pseudocysts

Pseudohole

Reticular pseudodrusen

Retinal neovascularization

Retinal wrinkling

Retinoschisis

RPE atrophy

RPE disruption

RPE elevation

RPE hyperreflectivity

RPE rupture

Serous RPE detachment

Shadowing

Soft drusen

Subretinal fluid

Subretinal hyperreflective material (SHRM)

Subretinal hyperreflectivity

Subretinal space

Vitelliform material

Vitreoretinal traction
Asteroid hyalosis

Central retinal artery occlusion

Central retinal vein occlusion

Central serous chorioretinopathy

Chorioretinal scar

Chorioretinitis

Choroidal melanoma

Choroidal neovascularization

Choroidal nevus

Choroidal rupture

Cone/rod dystrophy

Cystoid macular edema

Degenerative myopia

Diabetic macular edema

Diabetic retinopathy

Dry AMD

Dry AMD - Geographic atrophy

Epiretinal fibrosis

Epiretinal hemorrhage

Foveaschisis

Full thickness macular hole

Hypertensive retinopathy

Intraretinal hemorrhage

Intravitreal haemorrhage

Lamellar macular hole

Laser-induced maculopathy

Macular degeneration

Macular telangiectasia type 2

Myelinated nerve fiber layer

Myopia

Pigment epithelium detachment

Polypoidal choroidal vasculopathy

Preretinal haemorrhage

Pseudohole

Retinal angiomatous proliferation

Retinal detachment

Retinitis pigmentosa

Retinoschisis

RPE rupture

Solar maculopathy

Sub-RPE hemmorage

Subhyaloid hemmorage

Subretinal fibrosis

Subretinal hemorrhage

Tapetoretinal dystrophy

Vitelliform dystrophy

Vitreo-macular traction syndrome

Wet AMD

X-linked juvenile retinoschisis
More than 100 retina conditions
Pathological signs
Pathologies detection
Chorioretinal folds

Chorioretinal scar

Confluent drusen

Cotton wool spot

Cuticular drusen

Diffuse edema

Disorganization of retinal inner layers

Double layer sign

Drusenoid RPE detachment

Ellipsoid zone disruption

Ellipsoid zone focal defect

Epiretinal fibrosis

Fibrovascular RPE detachment

Floaters

Focal choroidal excavation

Focal hyperreflectivity

Full thickness macular hole

Hard drusen

Hard exudates

Hyperreflectivity of neurosensory retina

Hypertransmission

Internal limiting membrane thickening

Intraretinal cystoid fluid

Intraretinal hyperreflective foci

Lamellar macular hole

Macular excavation

Microaneurysm

Neurosensory retina atrophy

Neurosensory retina detachment

Operculum

Outer retina tubulations

Posterior hyaloid membrane adhesion

Posterior hyaloid membrane detachment

Posterior hyaloid membrane detachment with operculum

Pseudocysts

Pseudohole

Reticular pseudodrusen

Retinal neovascularization

Retinal wrinkling

Retinoschisis

RPE atrophy

RPE disruption

RPE elevation

RPE hyperreflectivity

RPE rupture

Serous RPE detachment

Shadowing

Soft drusen

Subretinal fluid

Subretinal hyperreflective material (SHRM)

Subretinal hyperreflectivity

Subretinal space

Vitelliform material

Vitreoretinal traction
Asteroid hyalosis

Central retinal artery occlusion

Central retinal vein occlusion

Central serous chorioretinopathy

Chorioretinal scar

Chorioretinitis

Choroidal melanoma

Choroidal neovascularization

Choroidal nevus

Choroidal rupture

Cone/rod dystrophy

Cystoid macular edema

Degenerative myopia

Diabetic macular edema

Diabetic retinopathy

Dry AMD

Dry AMD - Geographic atrophy

Epiretinal fibrosis

Epiretinal hemorrhage

Foveaschisis

Full thickness macular hole

Hypertensive retinopathy

Intraretinal hemorrhage

Intravitreal haemorrhage

Lamellar macular hole

Laser-induced maculopathy

Macular degeneration

Macular telangiectasia type 2

Myelinated nerve fiber layer

Myopia

Pigment epithelium detachment

Polypoidal choroidal vasculopathy

Preretinal haemorrhage

Pseudohole

Retinal angiomatous proliferation

Retinal detachment

Retinitis pigmentosa

Retinoschisis

RPE rupture

Solar maculopathy

Sub-RPE hemmorage

Subhyaloid hemmorage

Subretinal fibrosis

Subretinal hemorrhage

Tapetoretinal dystrophy

Vitelliform dystrophy

Vitreo-macular traction syndrome

Wet AMD

X-linked juvenile retinoschisis