Benefits for Optometry Centers
More patients served

Faster OCT examination means helping more people

No minor, rare, early pathologies missed

Accurate diagnosis means NO follow up visit is ignored

Less time on non-pathological scans

Specialists concentrate on what really matters

Second opinion from AI in controversial OCT

When in doubt, optometrists can rely on the algorithm

Confidence for every OD

Even less experienced optometrists will gain confidence to offer OCT
How it Works?
The most accurate AI tool for any optometry
Altris AI algorithm is trained on the biggest clinical dataset ( 5 mln of OCT scans) collected in 11 ophthalmic clinics throughout the years. It can differentiate between pathological and nonpathological scans within several minutes and detect more than 100 pathologies with a cumulative accuracy of 91%. The algorithm will not miss severe pathological scans and exclude the possibility of human-made error when dealing with controversial scans.
Each scan is labeled by 2 retina experts before being uploaded inside the model.
AI for Optometry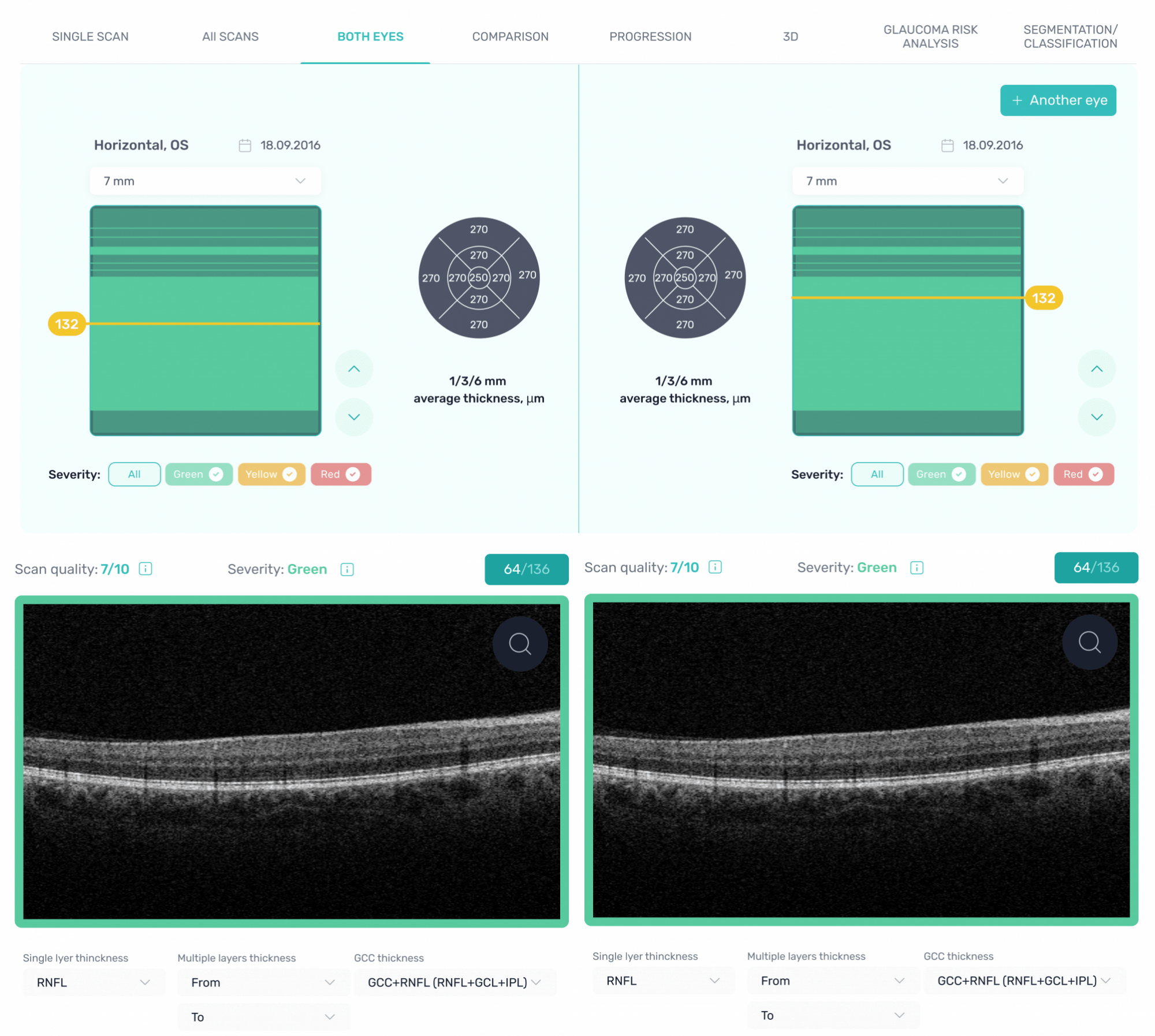 AI for optometry is a chance for every optician to have a substantial scientifically based verdict on the presence/absence of pathologies and always have a second opinion.
AI for optometry solves a number of major diagnostic problems we discovered in our survey of 1034 eye care specialists:
16% of optometrists avoid offering OCT examinations to patients because of a lack of knowledge of OCT. However, with Altris AI, 100% of optometrists get their confidence back.
35% of optometrists miss minor, early, rare pathologies 3 times a week.  The chances of such errors are equal to zero with Altris AI.
65% of optometrists come across controversial scans that they don't know how to interpret. This issue becomes irrelevant with AI for optometry.
Altris AI ophthalmic image management system has 3 basic modules: screening, analysis, and reporting. 
The screening module separates pathological scans from non-pathological faster without any chance of human errors. It means that non-pathological scans can be excluded from the start even by less experienced specialists. 
The analysis module helps ophthalmologists and medical retina specialists have a second opinion when assessing controversial scans which happen every day. More than that, the analysis module will detect pathologies at earlier stages invisible to the human eye. 54 pathologies and 49 pathological signs can be detected with Altris AI for optometry, including some rare pathologies that can easily be overlooked. 
The reporting module gives the possibility to create and print OCT reports that are equally comprehensible to Optometry Doctors and patients.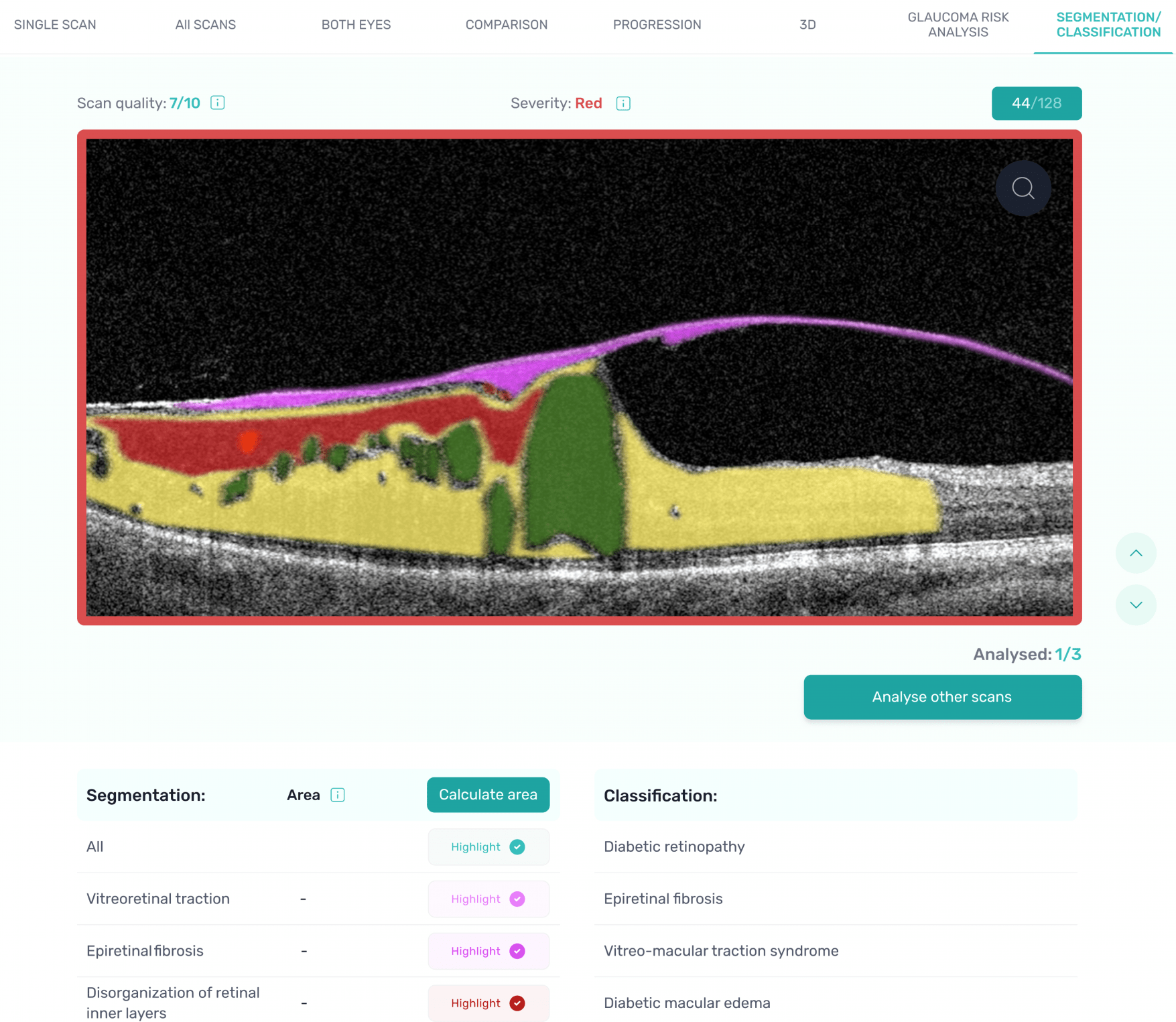 All formats

The system works with all data formats, such as DICOM, jpg, and png, making the ophthalmic image management system more secure and efficient

Comprehensive OCT reports

Altris AI for optometry creates OCT reports comprehensive not only to optometrists but to patients as well

Integration

The system can also be integrated with the EHR system or it can also work autonomously as a web application
Contact us
Ask us any question
For a clinic or an optometry: we will show the system to you during 15-minute call and then you will have a free trial to test it yourself.
Demo for a company
Or