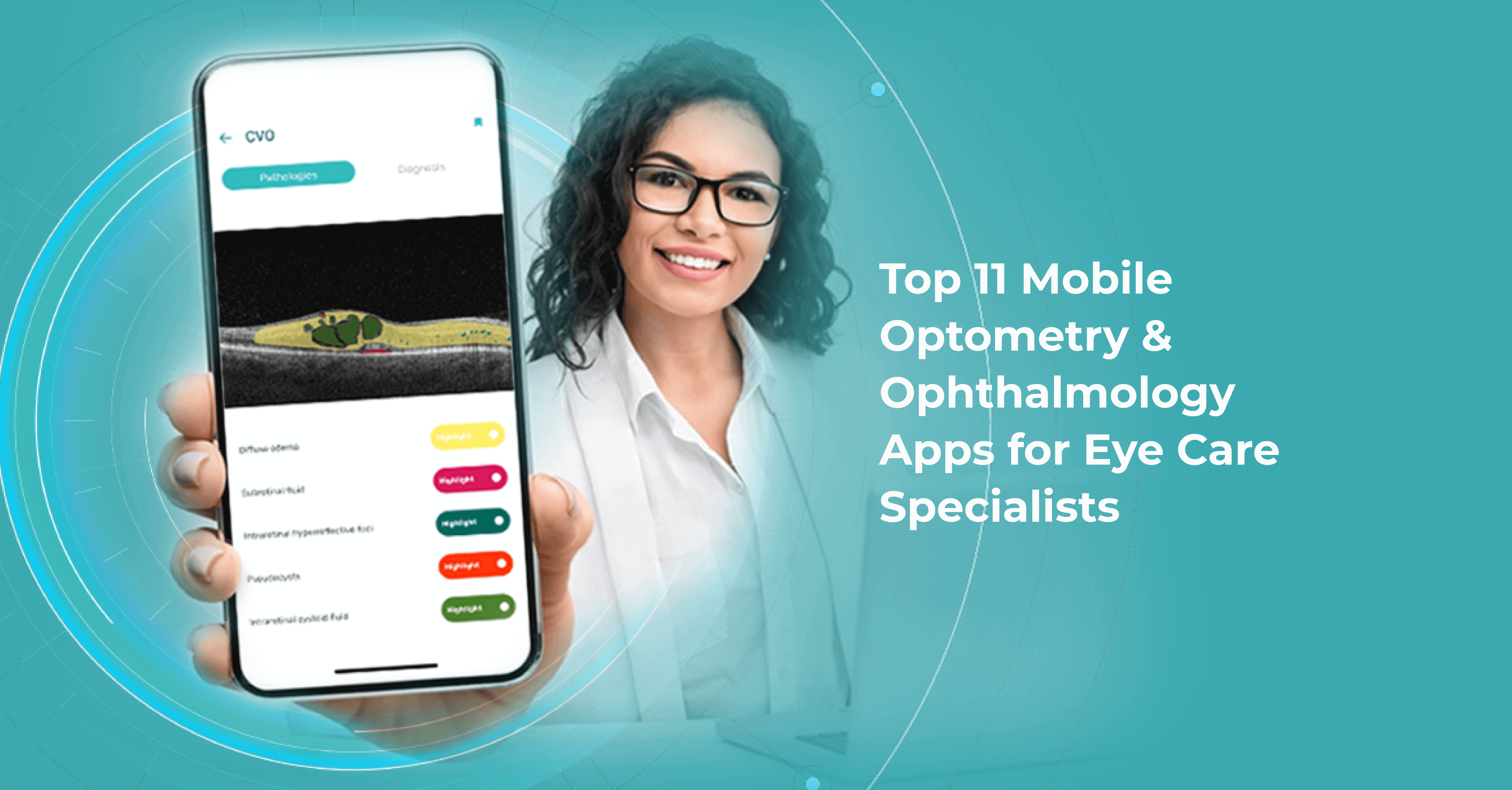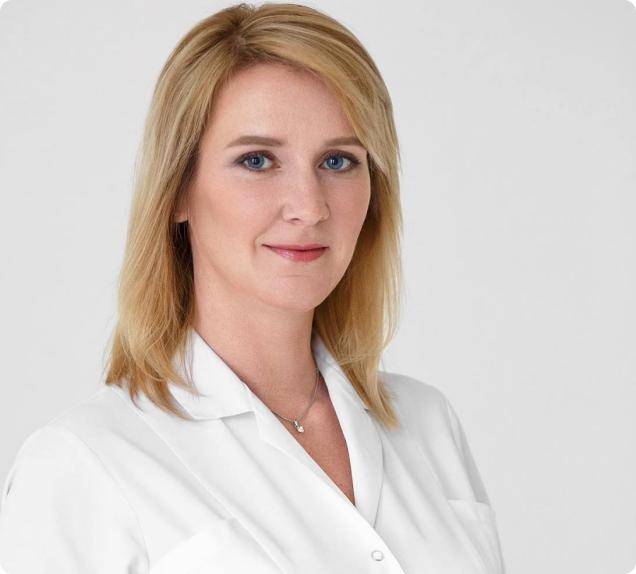 Maria Znamenska
Chief Medical Officer
Reading time
10 min. read
Today, there are hundreds of ophthalmology mobile apps available to both experienced eye care specialists and beginners. Some of them assist in learning and practice as clinical tools, and some of them are educational apps for opticians. Some mobile applications are basically a database of useful materials, ophthalmic atlases, so to say.
In this post, I will focus on educational ophthalmology and optometry apps and highlight their main features and functions.
Altris Education OCT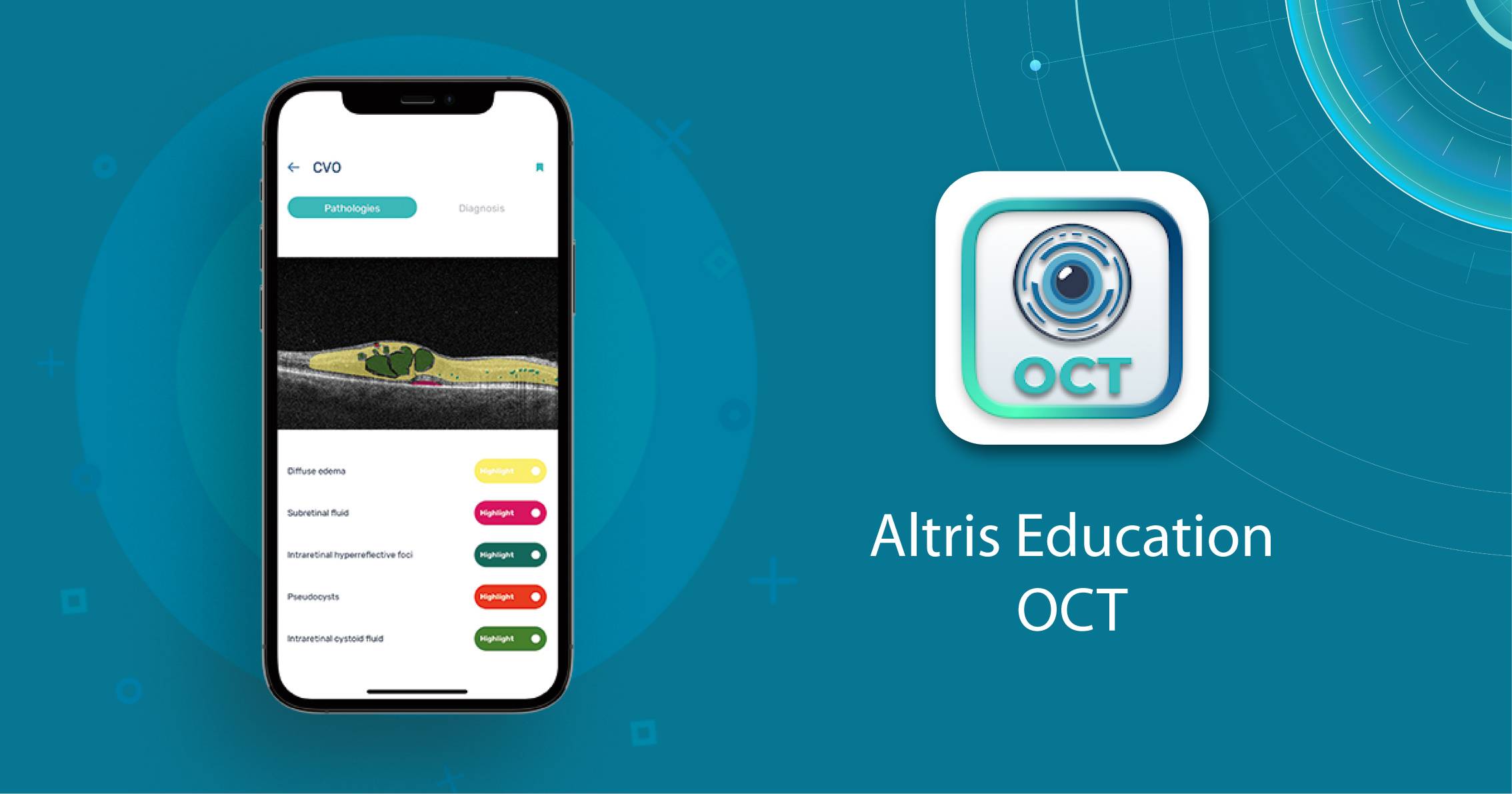 Altris Education OCT is a unique free ophthalmology mobile app that contains millions of OCT scans labeled by a team of retina experts. More than 9000 eye care specialists have already joined the application.
The app is interactive, which means that eye care specialists can highlight pathological signs on the scan 1 by 1 to learn about their location. The database of OCT scans is updated every day with a new labeled OCT scan, so users can gather their library right within the app. 
Watch a short video and learn how to interpret scans with Altris Education OCT ophthalmology mobile app:
Interactive eye atlas 
The home page of the Altris Education OCT ophthalmology mobile app consists of 4 sections: 
In the

Feed

section, users will find millions of OCT scans of the retina to practice and improve their skills. 

In the

Folders

sections, there are 41 folders with various hereditary diseases, pathologies, and pathological signs. If an eye care specialist uploads the app for a specific reason, for example, to learn how to detect Epiretinal Fibrosis, he/she can easily find a folder with needed scans and work on them.

In the

News

section, users can find recent news from the OCT world and current researches.  

In the

Community

section, a user can create a post and discuss curious cases with their colleagues. 
Community interaction
A team of Altirs Education OCT has the aim to build a real community of ophthalmologists and optometrists worldwide who share their passion for learning. Most eye care specialists often face difficulty while interpreting OCT scans in their everyday clinical practice. We created a community where each app user can discuss problematic scans or ask OCT-related questions ( what OCT equipment to choose?). 
Moreover, the Altris team will engage experienced OCT experts in the forums to give a professional assessment of the scans. 
In addition, the Altris ophthalmology mobile app allows its users to like, comment and share OCT scans, as well as save them in a personal library. 
Special features
In Altis ophthalmology mobile app, each pathological sign is highlighted with a different color so eye care specialists can easily learn how to interpret OCT scans. Each scan contains two tabs: pathologies and diagnosis, so users are able to highlight the pathologies in the first place and then guess the diagnosis. To check himself/herself, a user switches to the diagnosis tab and finds out the name of the disease. What is more, he/she can zoom in on OCT scans to view pathological signs in detail.
Membership options/perks
Altris ophthalmology mobile app not only provides its users with a huge database of educational materials. It also engages eye care specialists to invite friends, gain budges and upgrade their level. To reach the next level, there are tasks like "Search your first scan" or "Learn 5 scans in detail". When a user level up, he/she gets access to new folders with pathological scans. 
Another great feature of the app is that it constantly sends its users an unfamiliar OCT scan, so they can explore something new on a daily basis. The basic functionality of the app is completely free. However, ophthalmologists and optometrists can also become Pro users of Altris Education OCT and unlock more scans and app features for  $4 monthly or $25 annually.
Please upload this FREE app if you are interested:
👉 Android link: https://bit.ly/3YarBQa
👉iOS link: https://apple.co/3NLyPZ7
Eye Handbook
Being on the market since 2010, Eye Handbook is well known and loved by many ophthalmologists and optometrists. Eye Handbook is used worldwide for both diagnosis and treatment, as the app provides eye care professionals with tools for acuity testing, children's target fixation, or color vision testing. Now let's take a closer look at the app's functionality.
Eye atlas 
The overview of diseases in the mobile ophthalmology app begins with the Eye Atlas tab, which is a database of various pathologies arranged in alphabetical order. The description of each disease is accompanied by fundus photos, OCT images, or fluorescein angiography. Users can sort pathologies by category choosing, for example, retinal diseases, glaucoma, or oculoplastics. 
Moreover, with the Eye Handbook ophthalmology mobile app, users can view videos of ophthalmic surgeries, such as posterior polar cataract surgery, and many more. Users are also able to sort videos by most relevant or ranked. In addition to videos, the application provides ophthalmologists and optometrists with access to audio materials, flash cards, and slides.
Community interaction
The Eye Handbook mobile ophthalmology app has a forum with topics open for discussion. Users can become a part of the community, add their posts, choose the appropriate category and invite like-minded eye care specialists to discuss the latest news in the field of ophthalmology. 
Educational materials
The Eye Handbook is a very useful application not only for ophthalmologists but also for optometrists. Not to mention a bunch of study materials, the application has collected a large number of vision tests such as Amsler grids, duo-chrome test, OKN drum, and a lot more.
The ophthalmology mobile app contains a variety of calculators, like the Glaucoma risk calculator, which eye care specialists can use in their clinical practice right from their smartphones. Eye Handbook gathered even coding, like ICD-10 or CPT. In the app, they are also able to find detailed information about ophthalmic meds, check the EHB manual, and get access to a constantly updating news feed.
Eye Emergency Manual
Eye Emergency Manual mobile ophthalmology app is a great emergency aid because it quickly provides basic information about eye diseases. The application has several features, which I will explain in more detail below.
Eye atlas
This mobile ophthalmology app provides structured and detailed information about many eye traumas and treatments. Users can find fundus photos, photographs of real people's eyes, or scans of each trauma and read about their initial treatment. In some cases, the developers even created Eye Trauma Communication Checklists to help eye care specialists come to a medical conclusion many times faster. 
The Eye Emergency Manual app also contains a database of acute red eye or eyelid cases. All the information is presented clearly and plainly.
Special features
Each pathology overview can be saved so the app users can later explore their favorite pages or favorite glossary terms. The app also provides eye care professionals with the ability to search for a needed term, pathology, or assessment.
Educational materials
One of the unique features of the Eye Emergency Manual app is a variety of checklists, both for a certain pathology or a patient in general. In the app, users can find a comprehensive list of questions to ask their patients, which is useful both for ophthalmologists and optometrists. Eye Manual also contains pediatric assessment and injured patient assessment.
What is more, the app developers created a diagnostic tree that is aimed to help users by suggesting diagnoses. After answering a few questions, the app showcases a few diseases and suggests reading about them in the eye atlas.
OCTaVIA
One of the main differences between the OCTaVIA mobile ophthalmology app and other apps is the fact that it isn't free. Some other apps for opticians, which I mention in this article, have a paid subscription, but OCTaVIA itself costs $5.99 yearly. However, it is interesting to explore how this price is justified. 
Eye atlas
This ophthalmology app contains a constantly updated database of diseases from A to Z. Needless to mention that the application covers only retinal pathologies and provides information about retinal diseases, from Chorioretinal scars to VMT (Vitreo-Macular Traction).
Educational materials
One of the advantages of the OCTaVIA mobile ophthalmology app is that for each pathology it provides two views — fundus photo and OCT scan. They may be colored or not, but each fundus photo and OCT scan contains markers, which are explained in the text. What is curious, there are always a few useful links, so users can discover more trustworthy information about the disease.
Atlas of Ophthalmology Onjoph
The Atlas of Ophthalmology Onjoph app offers a clinical picture for almost all eye diagnoses. It includes more than 6,000 pathologies, from glaucoma to macular degeneration, and even includes such rare diseases as Stargardt syndrome. The image database is constantly being expanded and updated to include other eye diseases.
Eye atlas
Using the search function, eye care specialists can find specific clinical pictures and display them in lists based on diagnoses, ICD-10 code, or keywords. In the Atlas of Ophthalmology Onjoph, users will also find:
accompanying diagnosis;

code according to ICD-10;

brief comment.
Atlas users can also change the font size, save essential images, or forward images by email.
Educational materials
The mobile ophthalmology app has a clear structure for all images. All pathological cases are arranged according to eye regions (conjunctiva, cornea, retina, lens, etc.). Within the eye area, the images are listed according to the type of disease (degeneration, inflammation, tumors, etc.).
Membership options
The mobile application also allows its users to save their favorite articles in the Favorites folder, but this feature is paid and has two types of subscription:
$3.99 for a Silver plan

$29.99 for a Gold plan 
Other ophthalmology & optometry apps tools worth mentioning
Ophthalmology Guide
In case an eye care specialist needs a topic-oriented mobile ophthalmology app, they may check Ophthalmology Guide. Its users are allowed to choose the desired topic and find out the key characteristics of pathologies. In addition, they can also find several fundus photos, scans, and pathology charts.
Unfortunately, I can't say that the Ophthalmology Guide app is user-friendly. It contains a few bugs and lacks some additional options, like eye atlases or lectures.
However, the app is promising thanks to the clear categorization of topics, it can be very convenient for ophthalmologists and optometrists to quickly find specific information about examination and management of the pathology.
Easy Ophthalmology Atlas
Easy Ophthalmology Atlas is one of those ophthalmology and optometry apps that are also worth mentioning. It is an offline color atlas of the most common eye diseases. The app contains 13 chapters, where users can find clinical features, diagnosis, and treatment management for different pathologies.
Easy Ophthalmology Atlas lacks quite a lot of features compared to other ophthalmologist tools on the list. 
However, this mobile ophthalmology app has the potential to replace the heavy paper versions of the ophthalmology guides if the information is updated regularly in it.
Ophthalmology & Optometry Guide
Another representative of ophthalmology and optometry apps was created to assist students in learning the clinical signs, symptoms, and complications of different pathologies. It provides users with basic knowledge of eye diseases and pathologies, their causes, and treatment.  
Ophthalmology & Optometry Guide has up to 18 sections, each stands for a specific eye region (conjunctiva, cornea, retina, optic nerve, pupil, etc.). Each section explains the importance of eye region examination and highlights various abnormalities.
I would recommend this ophthalmology mobile app for beginners or students of the 1st course because it contains a lot of general information that can be useful for those who have just started their careers. However, in the long run, the app lacks media content, real-life examples, and other important features.
Ophthalmology Atlas
Ophthalmology Atlas is a database for ophthalmologists and optometrists, showcasing up to 12 areas of eye diseases from A to Z. 
Here users can find diseases of the cornea, lens, retina, and 9 more. The app is a digital variant of a paper atlas with a bunch of real photos and a lot of complicated cases, which is great for beginners. 
Clinical Ophthalmology
The Clinical Ophthalmology mobile app has a very simple interface and a list of 20 pathologies to read about. Although the application has only one feature and lacks media content, the team has provided users with the ability to share content. 
3D Atlas of Ophthalmology
The app is a collection of various 3D photos and videos, mostly created by Dr. John Davis. One of the distinctive features of the app is that to watch media content users will need to wear Red-Blue 3D glasses or VR Headset.  
Will Ophthalmology Mobile Apps Replace Webinars and Conferences?
According to our research on OCT education, 36% of optometrists and ophthalmologists around the world choose webinars to study OCT interpretation. 36% prefer conferences as the source of new information, 18% choose atlases, and only 11% of eye care specialists trust ophthalmology mobile apps.  
On the one hand, mobile ophthalmology app cannot replace atlases, webinars, internships, and clinical practice. On the other hand, interactive mobile application contribute to the assimilation of information much better than printed materials and have unlimited data storage capacity. Another of their advantages is that users can learn on the go for little money, while internships and clinical practice takes much time and can be expensive. 
Summing up, any ophthalmologist and optometrist who has worked at least a little with OCT knows that practical skills are more important than theory. That is why our team believes that ophthalmology mobile apps will inevitably become an additional effective tool for learning OCT interpretation.