Mark Braddon
Head of Sales
Optometry practice management software is designed for eye care specialists to manage their practices more efficiently and effectively. The software can automate a wide range of administrative tasks, making it easier for practitioners to focus on patient care.
Unlike other medical practices, optometry involves the management of a much larger number of optical instruments, processes and aids. Therefore, software for optometrists is more complex and multifunctional. It usually includes features such as appointment scheduling, patient registration, billing and insurance claims processing, patient data management, and secure messaging and email communication. The software can also integrate with other technologies, such as electronic health records (EHRs), OCT image management systems and diagnostic equipment.

By streamlining administrative tasks and providing practitioners with patient data, optometry practice management software can help eye care clinics improve their operations, increase efficiency, and provide better patient care. The software can be customized to fit the specific needs of individual practices and is often offered on a subscription basis, making it an affordable and accessible solution for eye care clinics of all sizes.
In this article, we will highlight the main benefits of practice management optometry soft, and provide you with a list of the Top 8 software to look at.
What are the benefits of practice management optometry software?
Optometry practice management software can help doctors in multiple ways besides increasing their revenue, efficiency, and productivity. Some of the key benefits of optometry practice management software include the following items.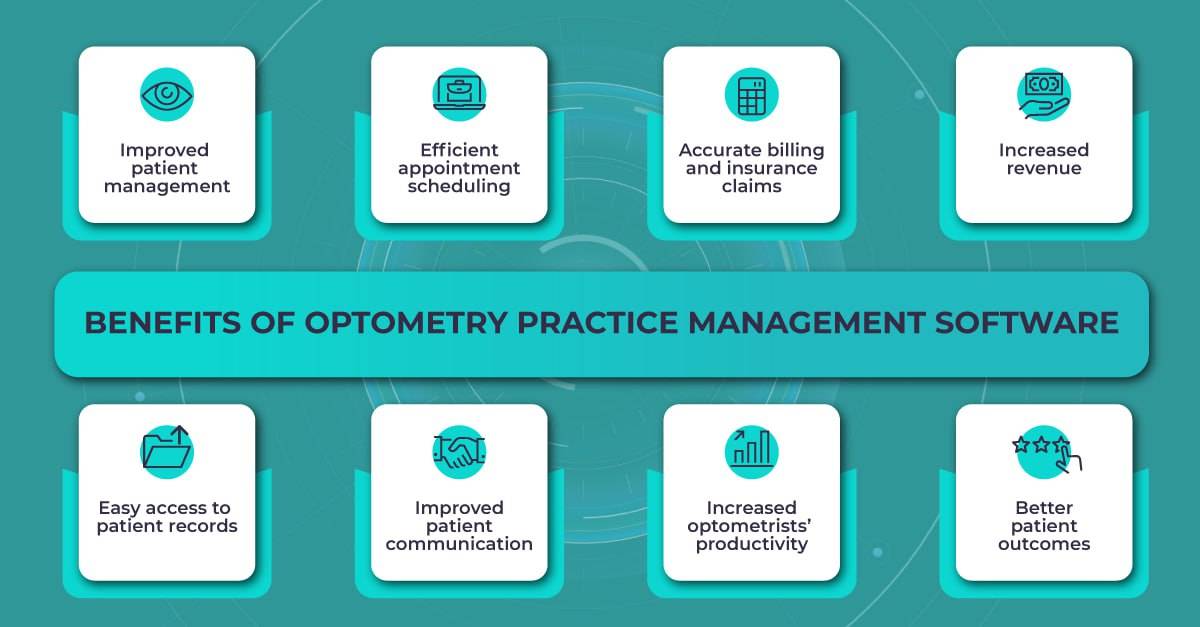 Improved patient management. The software can store and organize patient data, including medical history, examination results, fundus or OCT images, and treatment plans. This information can be easily accessed by practitioners and used to inform patient care.
Efficient appointment scheduling. The software can automate appointment scheduling, which can help to reduce the risk of double-booking and minimize wait times for patients.
Accurate billing and insurance claims. The software can help to ensure that billing and insurance claims are processed accurately and efficiently, reducing the risk of errors and delays.
Increased revenue. By streamlining billing and insurance claims processes, optometry practice management software can help eye care clinics to reduce errors and increase revenue.
Easy access to patient records. The software can store and organize patient records, including OCT images, making it easy for doctors to access the information they need to provide the best care possible.
Improved patient communication. Some optometry practice management software includes features that allow for secure messaging and email communication between patients and practitioners, making it easier to communicate outside of office visits. 
Increased productivity. By automating repetitive tasks, such as appointment scheduling and billing, optometry practice management software can free up time for eye care practitioners to focus on providing an individual approach to each patient.
Better patient outcomes. With access to patient data and treatment history, eye care practitioners can provide more informed and effective care. This can lead to better patient outcomes and increased patient satisfaction.
Overall, optometry practice management software can help eye care clinics to provide better patient care, increase efficiency and productivity, and improve their bottom line. Now let's take a look at out Top 8 optometry practice management software.
Altris AI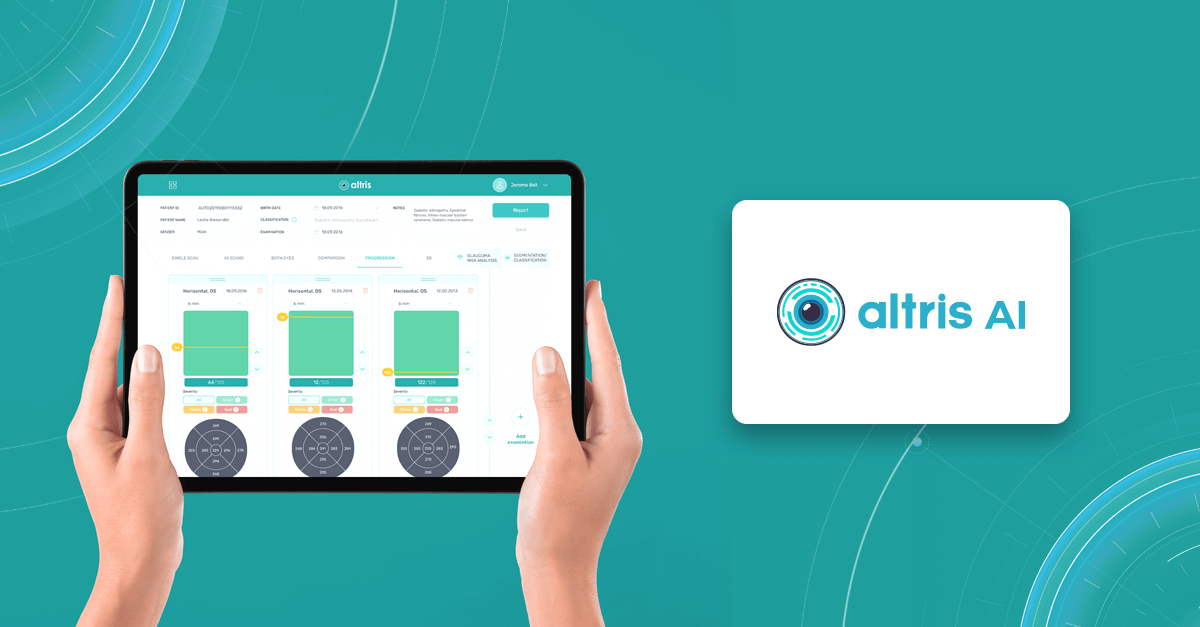 Altris AI is an image management system based on artificial intelligence (AI) tools that assists eye care specialists in OCT scan analysis and interpretation. The solution was designed in cooperation with retina experts to help practitioners detect the pathology from the OCT scan. Altris AI also can be easily integrated with EHR systems or used standalone as a web application.
To create an Altris AI system, our specialists colored thousands of OCT scans and named more than 100 retinal pathologies and pathological signs to train an AI algorithm. May sound complicated, but the workflow of the image management system is pretty simple.
First, a user uploads an OCT b-scans to the platform, and the AI model evaluates the scans. 

After that, the model differentiates between normal scans and scans with moderate and severe pathology.

With the help of the second step, eye care specialists are able to focus only on serious (red) scans, saving their precious time.

After that, a user can highlight pathological signs with different colors, sort scans by severity level, and zoom.
It is important to mention that the patient's diagnosis is always on the eye care practitioner's side. Altris AI is a tool that provides assistance in support in decision-making and allows its users to see a broader perspective of a patient's eye health. 
Watch a short overview of how Altris AI assists eye care specialists with OCT diagnosis.
In addition, with Altris AI, users can work with all modern OCT equipment and popular data storage formats, such as DICOM of various lengths, png, and jpg. The patient data at all stages is tokenized and protected from disclosure. Eye care specialists can also actively use the Smart Reports feature, which allows users to select a single element (scan, layers, both eyes, etc.) that they want to see in their OCT report.
Acuitas activEHR 2.0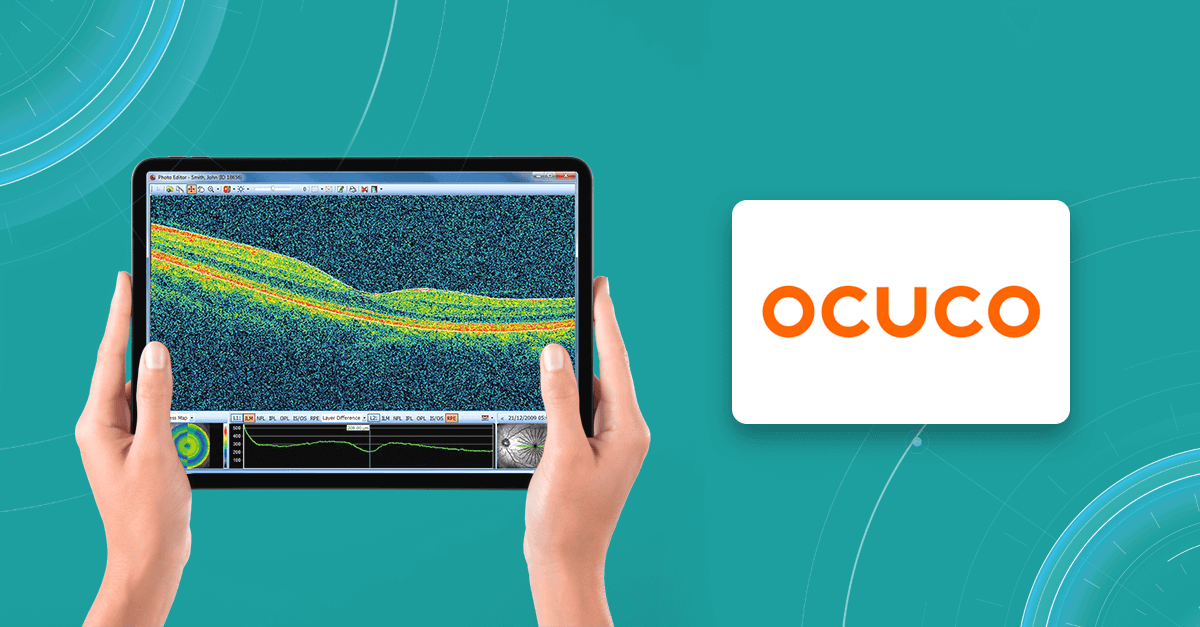 In case you are working at or owning a midsize or large optometry practice, this hybrid electronic health record solution will be quite useful. Acuitas activEHR 2.0 can be hosted in the cloud as well as deployed on-premise, depending on your preferences. This software offers its users a wide range of tools, including electronic medical records, billing software, scheduling, PACs, accounting software and billing services. 
What is more, Acuitas activEHR 2.0 can provide optometry clinics with various marketing and upselling features, and you can also customize BI reporting and track benefits. Healthcare providers can reach out to patients via either SMS or email, which makes it much easier to schedule an appointment.
In addition, the optometry practice management software supports such features as IDA (Immediate Data Access), which allows practitioners to automatically update the frames. Acuitas activEHR 2.0 also offers a variety of application integrations. 
MedFlow EMR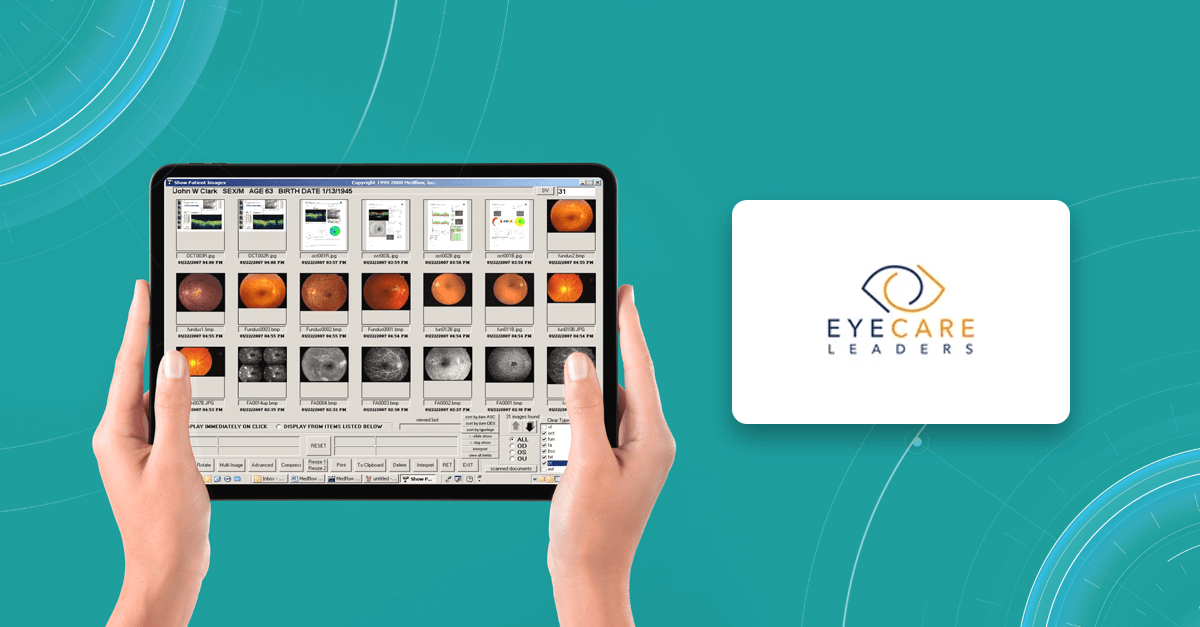 Next on our list — Medflow EMR software, which was designed to serve as either a standalone EMR (electronic medical record) or as a combination of EMR + practice management (PM) system. Like other optometry practice management software from our list, Medflow EMR was created specifically for eye care, but it can be used by eye care specialists providing both ophthalmology and optometry. 
Medflow has a bunch of features, but the main one is the software has built-in templates designed for comfortable and time-saving work, including retina scans and surgery, cataracts, glaucoma, digital drawings, eye measurements, LASIK procedures, and more. In addition, it also has a base package, where ASC and optical modules are included.
Overall, this practice management software will suit a clinic of any size, be it solo practice or a large hospital. The Medflow interface can be easily integrated with other practice management systems or image interpretation applications. Also, the software can be used as a hosted solution or installed on-premise.
Liquid EHR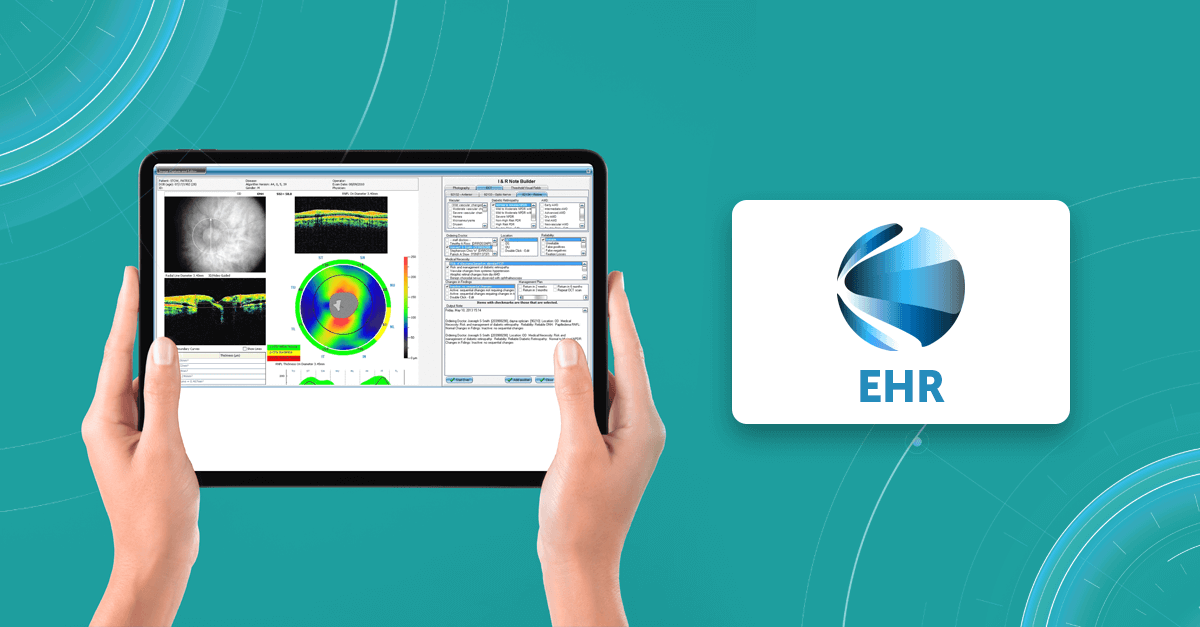 Liquid EHR software will be a perfect solution rather for small and midsize optometry practices than large hospitals. The broad range of its features includes medical records management, medical billing, scheduling and a lot more. The optometry practice management software provides eye care specialists with the ability to generate a mailing list, track systems workflow, manage documents, do compliance checks, integrate e-prescribing, and configurable exam records. 
What is more, Liquid EHR has a number of specific optometry tools, such as historical IOP charts, drawing tools, built-in eye charts, frames data integration and image management. Optometrists can incorporate lab test results, view clinical summaries and send patient reminders. 
In addition, the software also allows practitioners to have instant access to electronic insurance filing tools, patient recalls, drug interactions and allergy interaction checks, problem lists, active medication lists, medication recommendations, educational resources, smoking status, vital signs and more.
EyePegasusEHR
The EyePegasus optometry practice management software offers a solid number of tools and features for optometry practices. You can schedule appointments online, turn on the automatic appointment reminders, work with a patient portal, scan documents, use an optical calculator and an iOS app with patient check-in features. 
Using EyePegasus, eye care specialists can customize different tabs by choosing a proper layout, and create templates for treatment documentation. Moreover, optometrists are able to scan medical images and upload them directly into a patient's chart. The is also a possibility to create referral letters using auto-populated EHR data. Other EyePegasus tools include building and dispensing optical orders and online appointment management. 
In addition, the optometry practice management software allows managing inventory of different items, such as lenses. EyePegasus also can be integrated with a variety of applications. 
Eye Cloud Pro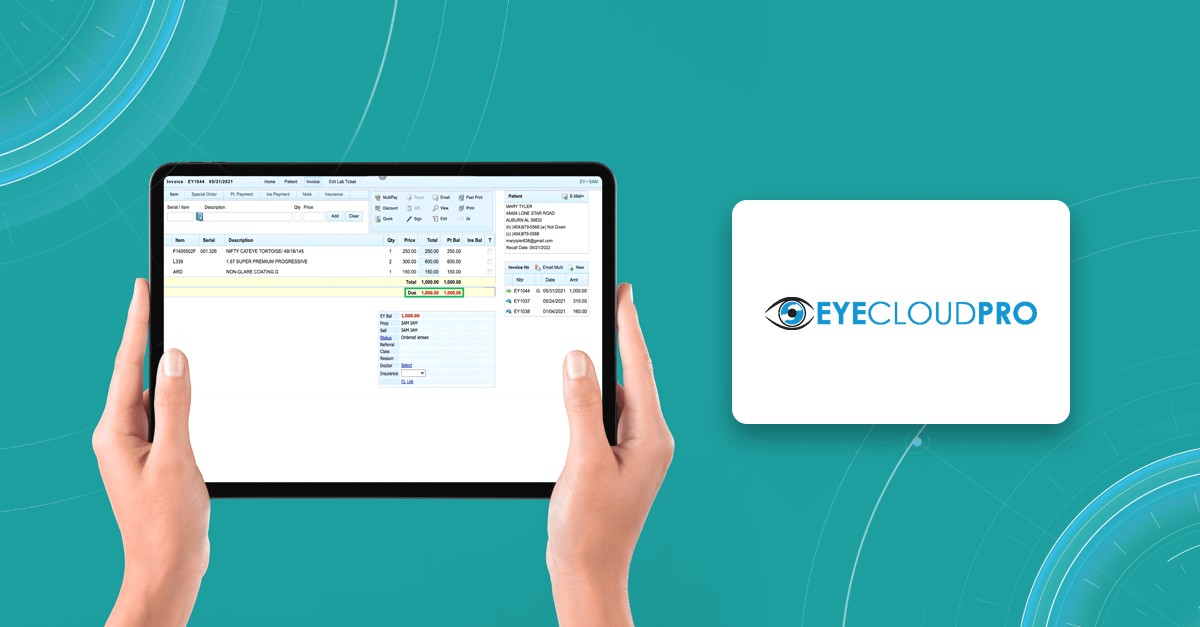 Another optometry practice management software created for optical professionals is Eye Cloud Pro. The list of its data managing tools is really impressive and includes e-prescribing, inventory management, integrated credit card processing, electronic claims submission, device integrations, two-way texting (SMS), and ECP Billing.
The system also provides improved patient communication via secure messaging and email services. Clinic managers can configure various appointment types and lets clients request bookings via mobile or desktop devices. The software can be customized mailing lists, referral reports, account information, and sales reports to help with business strategy.
In addition, one more benefit of Eye Cloud Pro software is that it has an integrated payment processing system with automated invoice and receipt generation. It will make a clinic's data safe and retained. 
OD Link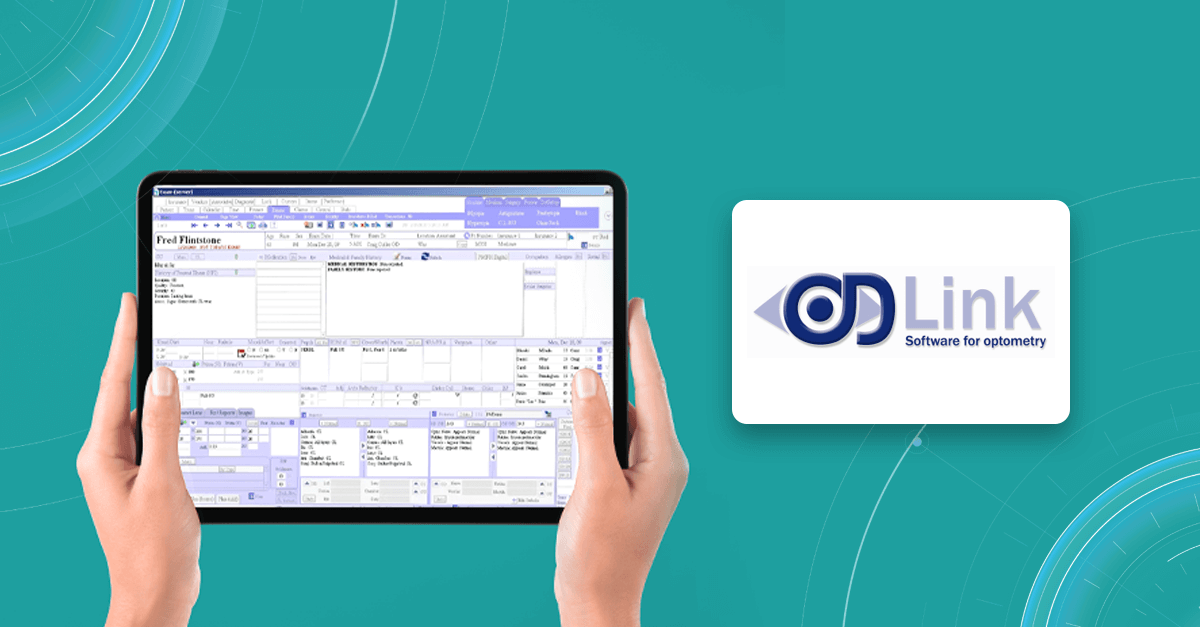 Taking about comprehensive optometry practice management software, OD Link is one of the most suitable variants for any clinic. It has both PM and EMR/EHR tools, helping to manage patient records, exams, appointments, inventory, billing/insurance information, and much more.
OD Link software allows optometry practitioners to communicate with patients via SMS or email, work with electronic insurance claim processing centers, and create automated patient entrance forms.
It also has a mobile app for iOS users, can accept data input from electronic optometry equipment, and can be integrated with different applications.
ManagementPlus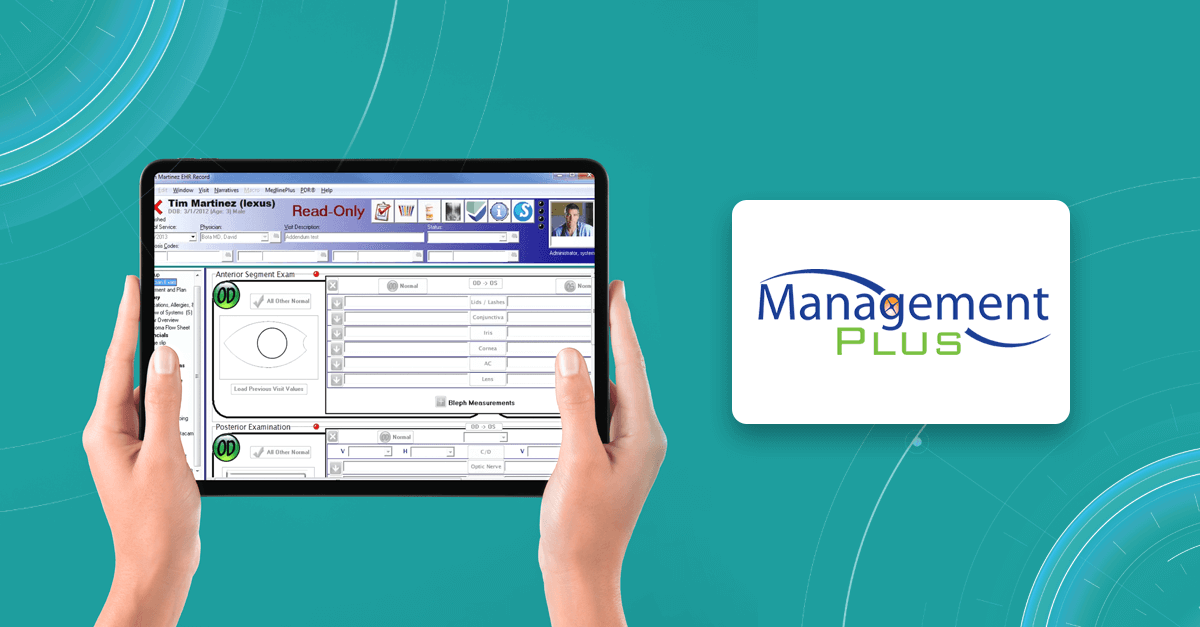 Last but not least, ManagementPlus practice management software for optometrists was designed as a fully-fledged and customizable solution with a bunch of functions. With the help of this soft, eye care specialists can work with EHR, PM, ASC forms and inventory. It is also quite helpful in managing revenue cycle services, practice building and reputation management, business analytics and capital funding.
What is more, ManagementPlus solutions allow optometrists and clinic managers to work in one platform, which makes communication clear and unified. Users can track workflows and handle all billing from eligibility to collections. 
In addition, ManagementPlus has an in-built reporting tool, which allows specialists to report on most fields in the system, while the practice management system provides a choice of two scheduling modules. Users have the option of choosing either cloud-based or on-premise deployment. 
Summing up 
Optometry management software is a perfect choice for any medical practice, including solo practices, midsize clinics, and large hospitals. It is a perfect tool not only for managing patients, optical instruments and aids. The software is also helpful in improving operations, increasing efficiency and revenue and streamlining the working process. Such solutions keep all the data in one place, powering optometrists to document the patient history directly from diagnosis, and managers to avoid unnecessary paperwork.
Overall, optometry management software is a need for modern practice, as it improves the diagnosis and treatment, and even can be integrated with image management systems, like Altris AI. This integration assists in managing patient data, helps with controversial OCT scans, differentiate between pathological and non-pathological scans, and, most importantly, gives confidence to eye care specialists.