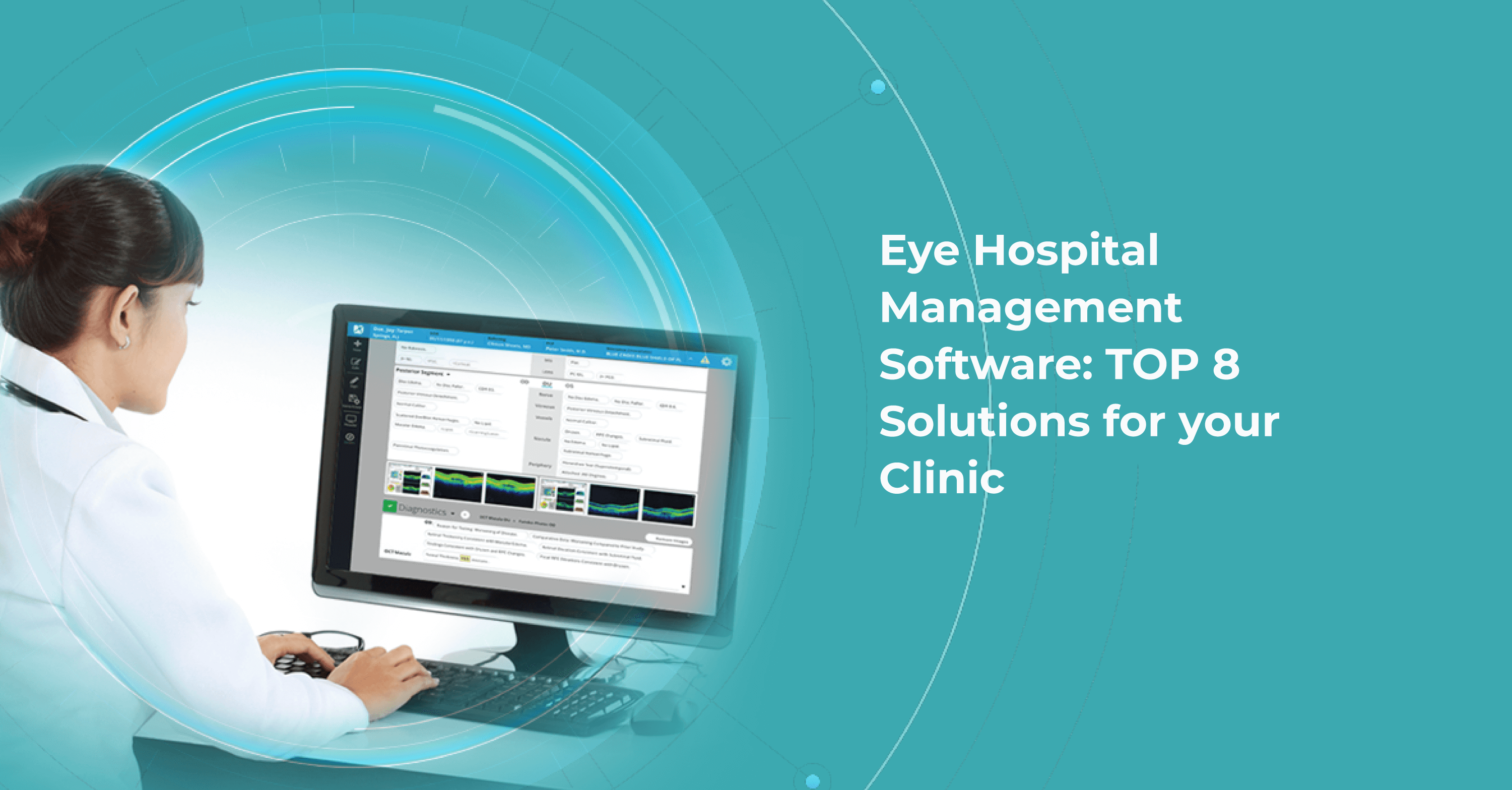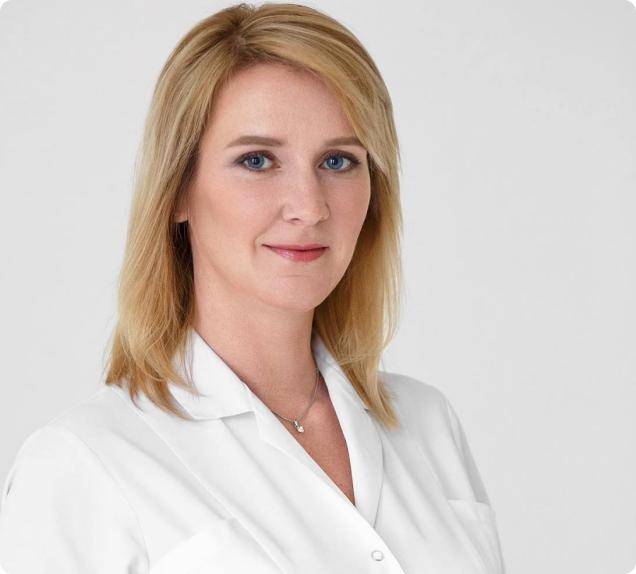 Maria Znamenska
MD, Ph.D., Eye Clinic Owner
The term "Eye hospital management software" can have numerous meanings. Some soft can be a part of larger EMR (electronic medical records) systems, some can help with scheduling and billing, and some can help with patients' information management. There is also an eye clinic management system that can even advise on diagnosis based on the patient's history and medical images. Because of dozens of different soft on the market, it can be quite complicated to choose a proper set of tools for your practice.
If you are an ophthalmologist or manage an ophthalmic diagnostic center/hospital, you may have trouble choosing the right software. That is why we've decided to prepare a list of solutions for patients' health recording and diagnosis. We will highlight the benefits of the ophthalmic practice management system and help you choose the right solution.
Why
eye hospital management software
is worth using
Eye hospital management software has become extremely important for eye clinics or medical centers looking to streamline their workflows, automate processes, and provide higher-quality care with less effort. You can have piles of paper and numerous excels, but when someone is on vacation, it will be impossible to make sense of all data and use it quickly.
However, many clinics still work according to the old scheme and refuse to introduce new technologies into their clinical practice. There may be several reasons for this: mistrust of modern tools, reluctance to spend the money buying licensed eye clinic management system, or  reluctance to spend staff time learning how to work with the program. But, in fact, today, there are systems designed specifically for ophthalmologists to function flawlessly in eye care settings. Here are some benefits that an eye clinic management system can provide to your medical practice. Let's take a closer look at some of them: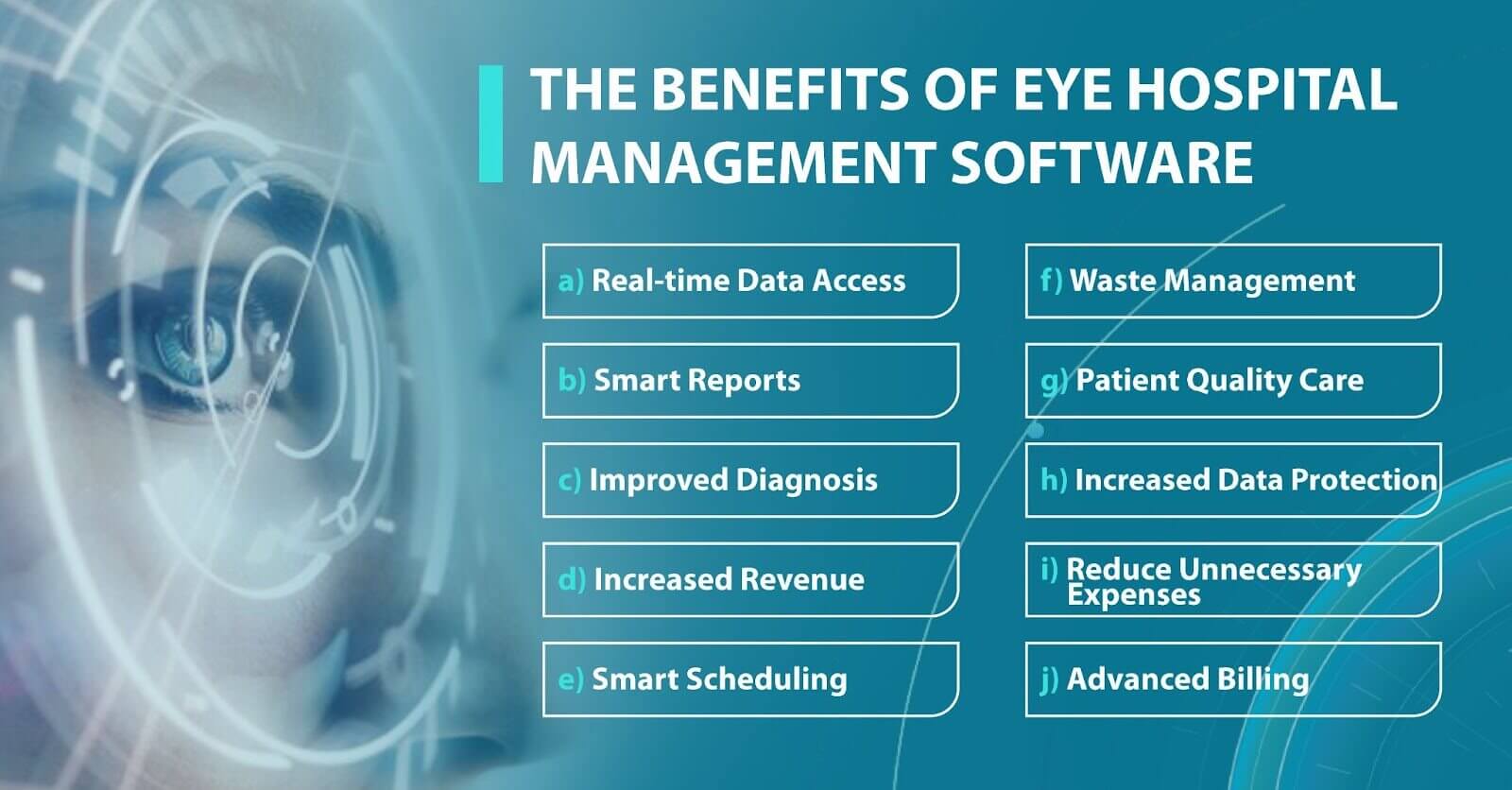 High level of data protection

. Another important benefit of

the ophthalmic practice management system

 is a high level of data protection. High-quality soft gives access to data only to authorized persons. The software also has security systems that guarantee no risk of data loss and full protection of medical history or information about the patient's condition.

Increasing diagnostic accuracy.

Using an eye clinic management system

, ophthalmologists improve the quality of diagnosis and treatment, as they get access to the whole patient's history from the past to the present. An ophthalmologist can learn about the previous treatment their patient received and about chronic illnesses. By learning this, doctors can create a better treatment plan.

Increased revenue.

Depending on the number of employees in your clinic, you may need dozens to hundreds of personnel to smoothly handle manual processes. And more human resources mean more expenses. However, by using

best practice management software for ophthalmology,

you can significantly reduce spending and let your employees and doctors focus on the more creative tasks that require empathy and communication.   
These are the most common benefits of an eye clinic management system. However, each system has its unique features, so let's look at the top 8 eye clinic management systems. 
Altris AI System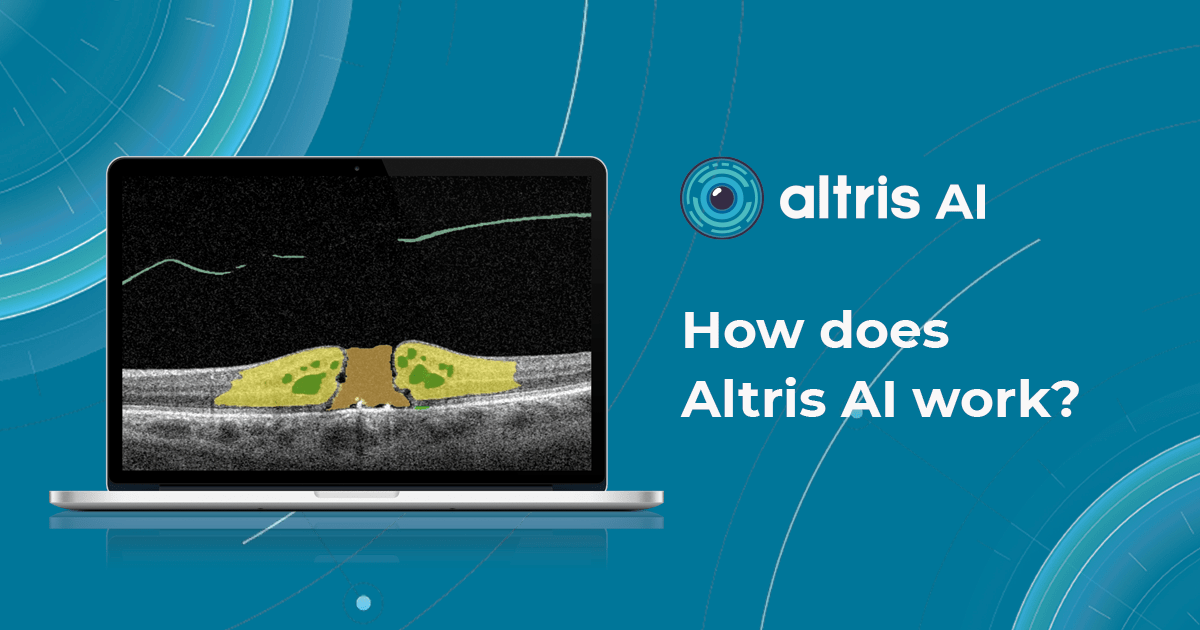 Altris AI is a unique eye clinic management system that allows eye care specialists to analyze OCT scans with the help of artificial intelligence (AI) tools. 
How does it work? Putting it simply, retina specialists have colored thousands of OCT scans and named more than 100 retinal pathologies and pathological signs to train an algorithm, so it can assist specialists in detecting the disease. After loading an OCT scan in the eye hospital management software, the AI model evaluates the b-scans (up to 512) and differentiates between normal scans and scans with moderate and severe pathology. It gives eye care professionals the ability to focus only on serious (red) scans, saving patients valuable time.
In addition, Altris AI allows its users to see a broader perspective of a patient's eye health. All the reports are dynamically editable: the ophthalmologist can add/revise/delete items in the OCT report. Eye care specialists also can add segmentation/classification results to the OCT report in 1 click. And what's even more important, Altris AI OCT report is understandable for both ophthalmologists and patients. 
Eye clinic management system features of Altris AI
The system allows working with all popular OCT equipment and all data storage formats, including DICOM of various lengths, png, and jpg.

Altris AI

ophthalmic practice management system

 can be easily integrated with EHR systems or run standalone as a web application.

The system also takes care of user security, as all important patient data is tokenized and protected from disclosure at all stages.

The artificial intelligence program can independently identify more than 100 retinal pathologies and pathological signs.

The Smart Reports feature allows ophthalmologists to select the elements (single scan, layers, both eyes, etc.) that they want to see in their OCT report.

This All Scans feature allows the user to view all scans of a single OCT examination, sort them by severity level, and zoom.
Watch a short overview of how Altris AI assists eye care specialists with OCT diagnosis and decision-making.
DrChrono Software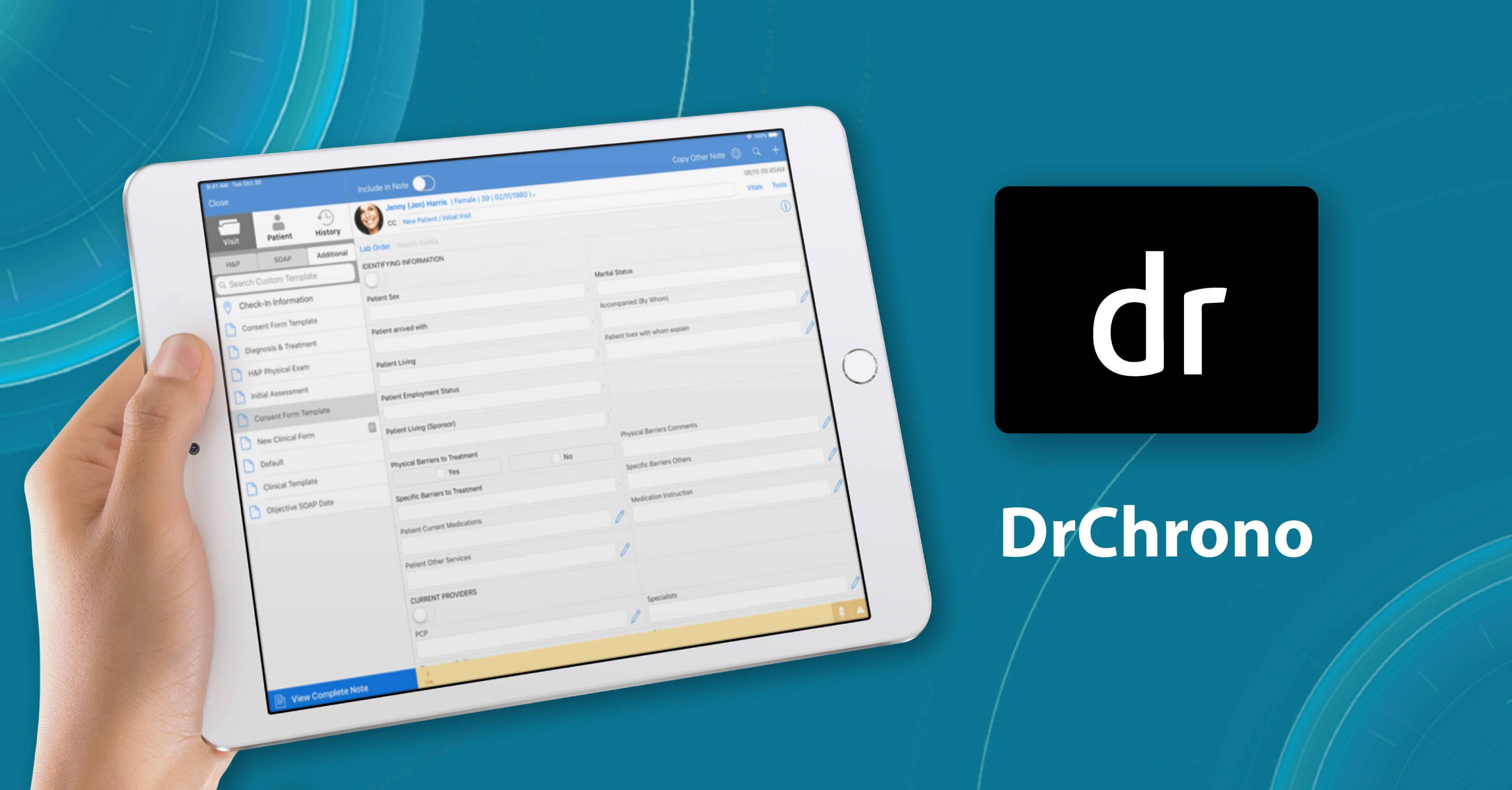 DrChrono EHR is an iPad and iPhone-compatible platform that offers fully customizable form templates or ready-made forms to help users track patient information. 
DrChrono EHR is an iPad and iPhone-compatible platform that offers fully customizable form templates or ready-made forms to help users track patient information. 
Eye clinic management system features of DrChrono Software
The system allows medical practices to manage patient admissions, patient care, clinical charts, and billing.

Healthcare professionals can add patient notes to the medical record. The Vital Flowsheets module provides the ability to create basic health data and monitor the health indicators of each patient.

The DrChrono

eye hospital management software

also offers a variety of application integrations. 

Doctors can use the Free Draw module to annotate charts, OCT scans, or other files.
RXNT Software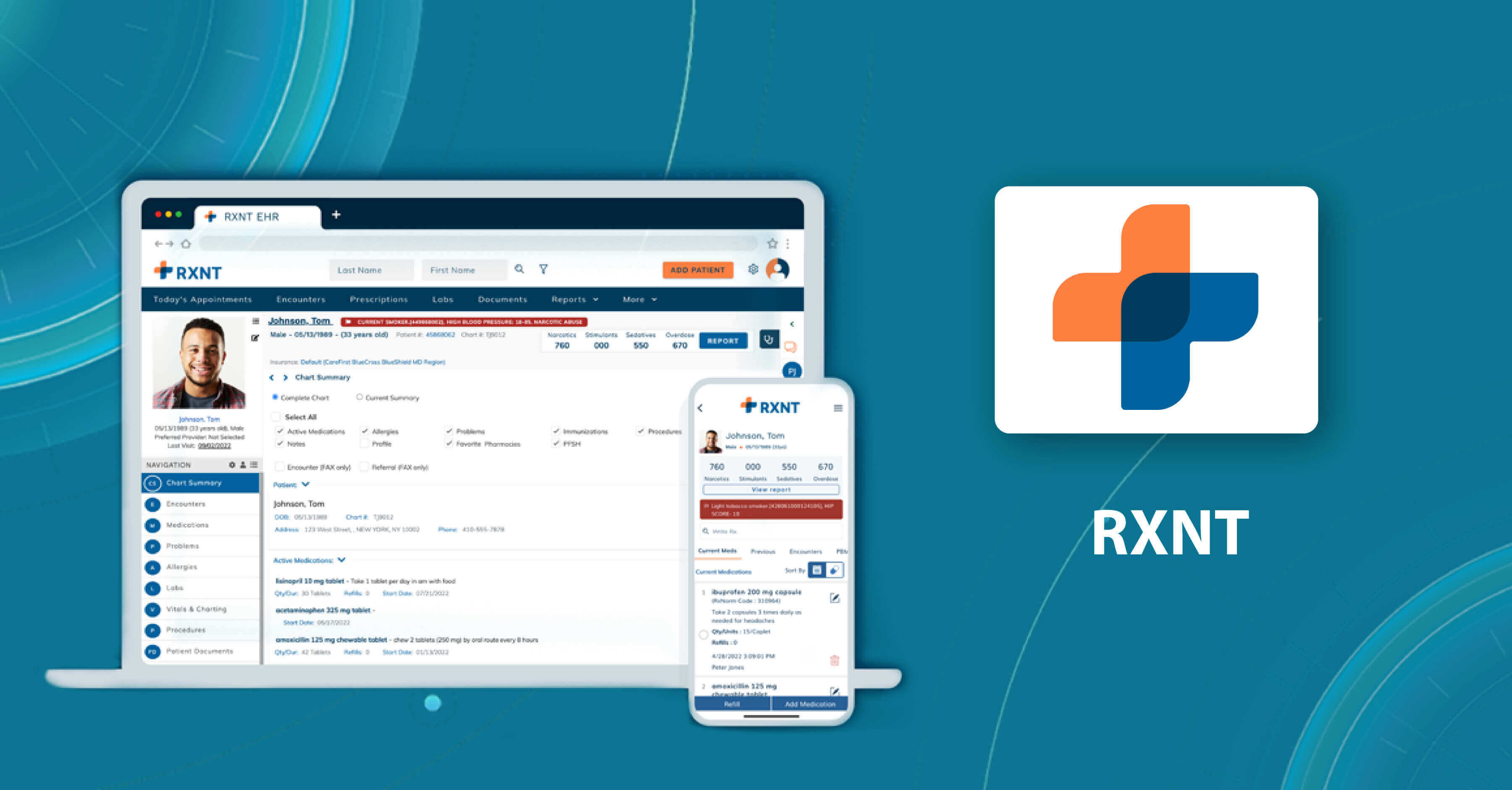 RXNT is a comprehensive billing, practice management, and EHR solution. This system improves patient care and simplifies clinical management. Access patient health history and prescriptions at the point of care, schedule patients and providers, and request and review lab or imaging orders with multi-site single sign-on (SSO).
Eye clinic management system features of RXNT Software
Any RXNT ophthalmic practice management system

 products (EHR, ERX, PM, Billing, Scheduling) can be combined into a fully integrated "Full Suite" system.

Ophthalmologists, managers, or staff can add and organize documents in patient charts for clinical care plans and follow-up.

The system has developed customizable "smart" forms and short keys that improve work processes.

RXNT can share real-time data with other doctors to better coordinate care and support.
In addition, an ophthalmic clinic can integrate RXNT eye hospital management software with the Altris AI system to create and dynamically edit OCT reports.
Medfiles Software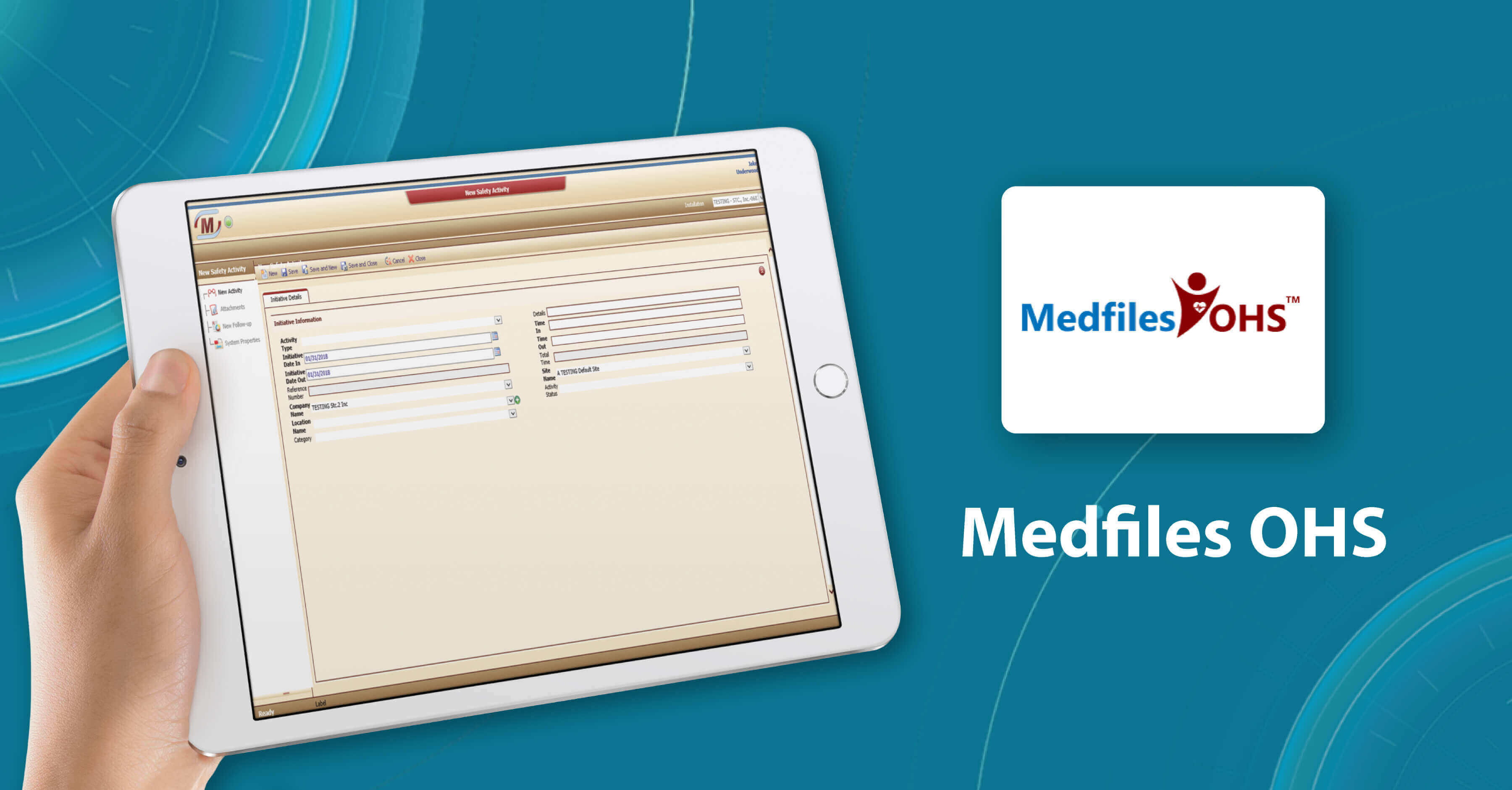 Medfiles Software is a multi-task cloud-based solution that ensures compliance for ophthalmology clinic employees. The key features of this eye hospital management software are drug screening management, medical record tracking, case management, training tools, reporting, and safety documentation.
Eye clinic management system features of Medfiles Software
Medfiles tracks patient treatment plans, open cases, treatment plans, medical expenses, and cash reserves and creates conclusions based on all the information.

The system can be easily integrated with different software so a doctor or staff can see scans of specific OCT examinations.
Medfiles eye clinic management system allows to compare annual summary reports with benchmarks.
IntelleChartPRO Software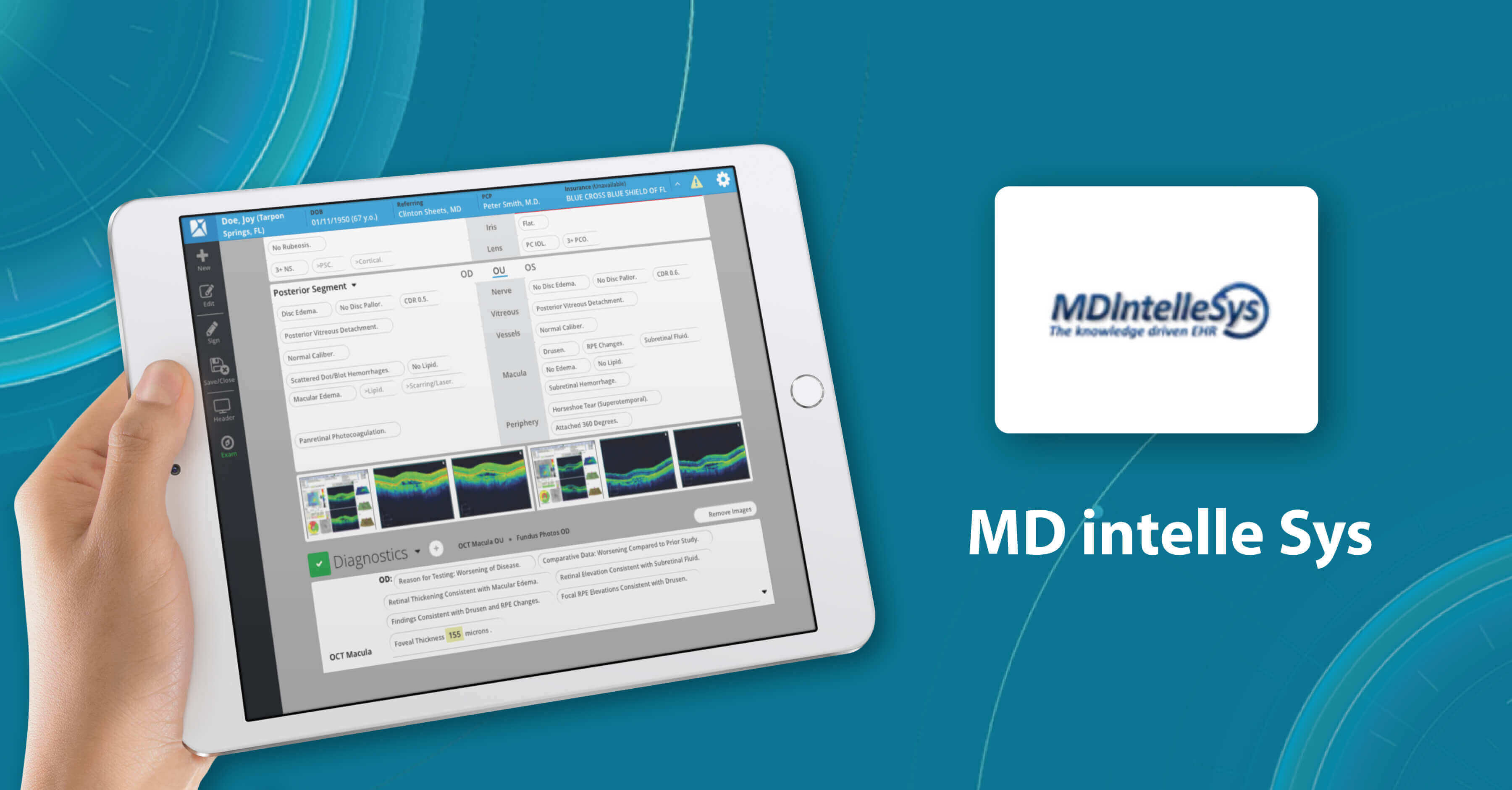 Another cloud-based ophthalmic electronic medical record (EMR) solution is IntelleChartPRO. This system is very popular among ophthalmology clinics and centers. IntelleChartPRO helps professionals record and manage a patient's treatment and medical history more effectively.
Eye clinic management system features of IntelleChartPRO Software
Physicians or ophthalmology clinic management can customize the EHR themselves to fit their unique workflows.

IntelleChartPRO eye hospital management software developed adaptive template technology that allows offices to generate templates for each patient.

In combination with other eye clinic management system

 tools

, the software becomes more relevant and allows more accurate diagnoses of patients and the creation of detailed reports.
MaximEyes Software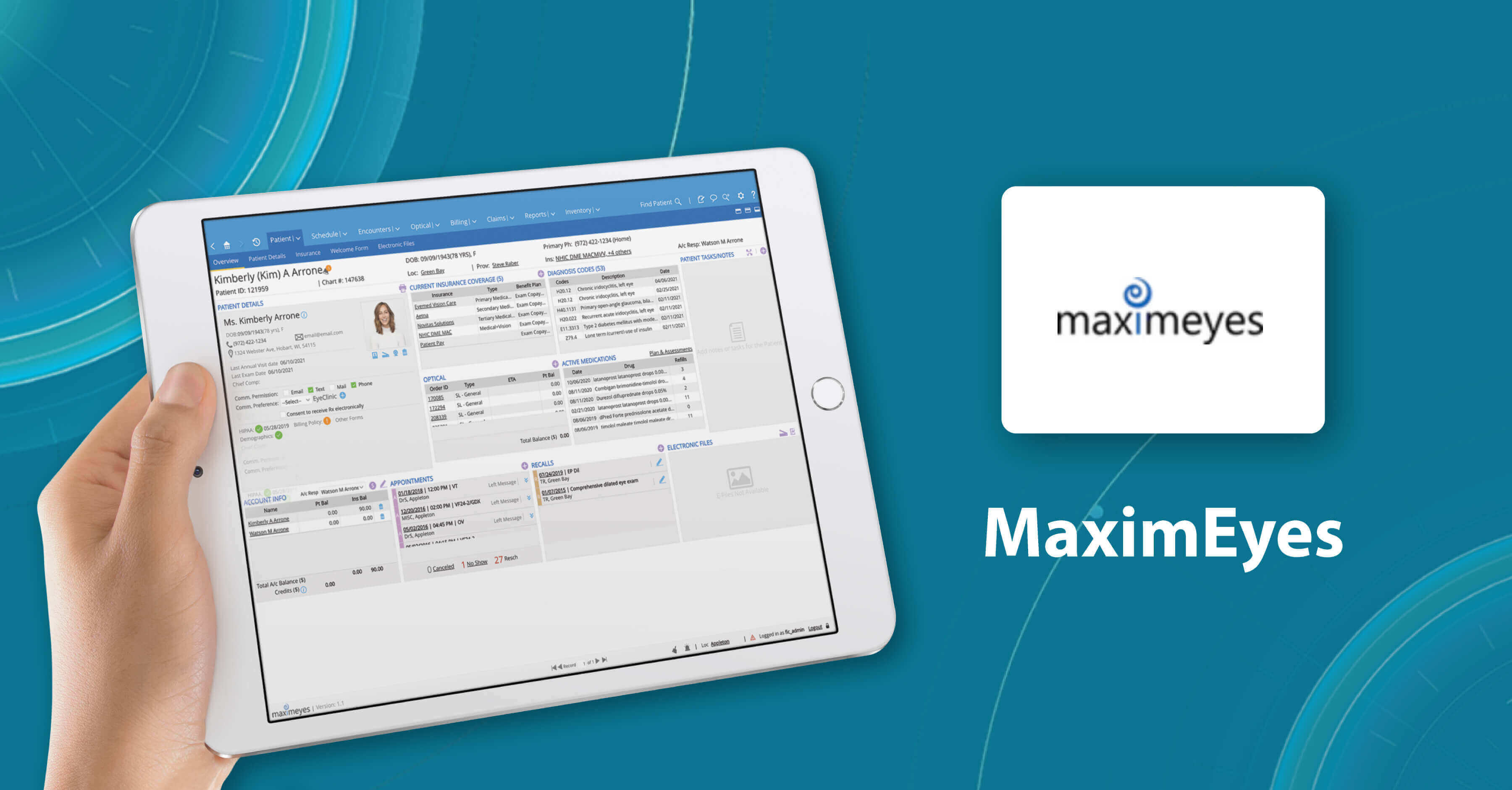 MaximEyes is a comprehensive, unified electronic health record (EHR) and practices management solution designed exclusively for ophthalmology practices. It has a modern and intuitive user interface. The system will work on any computer OS. If users do not want to use cloud technologies or the clinic has a weak Internet connection, MaximEyes can be deployed through a local server
Eye clinic management system features of MaximEyes Software
For each patient, the system allows ophthalmologists to set up an individual template according to different types of visits.

The

eye hospital management software

EHR includes a flexible rules engine that will suggest or automatically generate post-diagnosis codes, procedure codes, and output documents.

The First Insight module also offers an ophthalmic imaging management solution that works with any EHR.
75health Software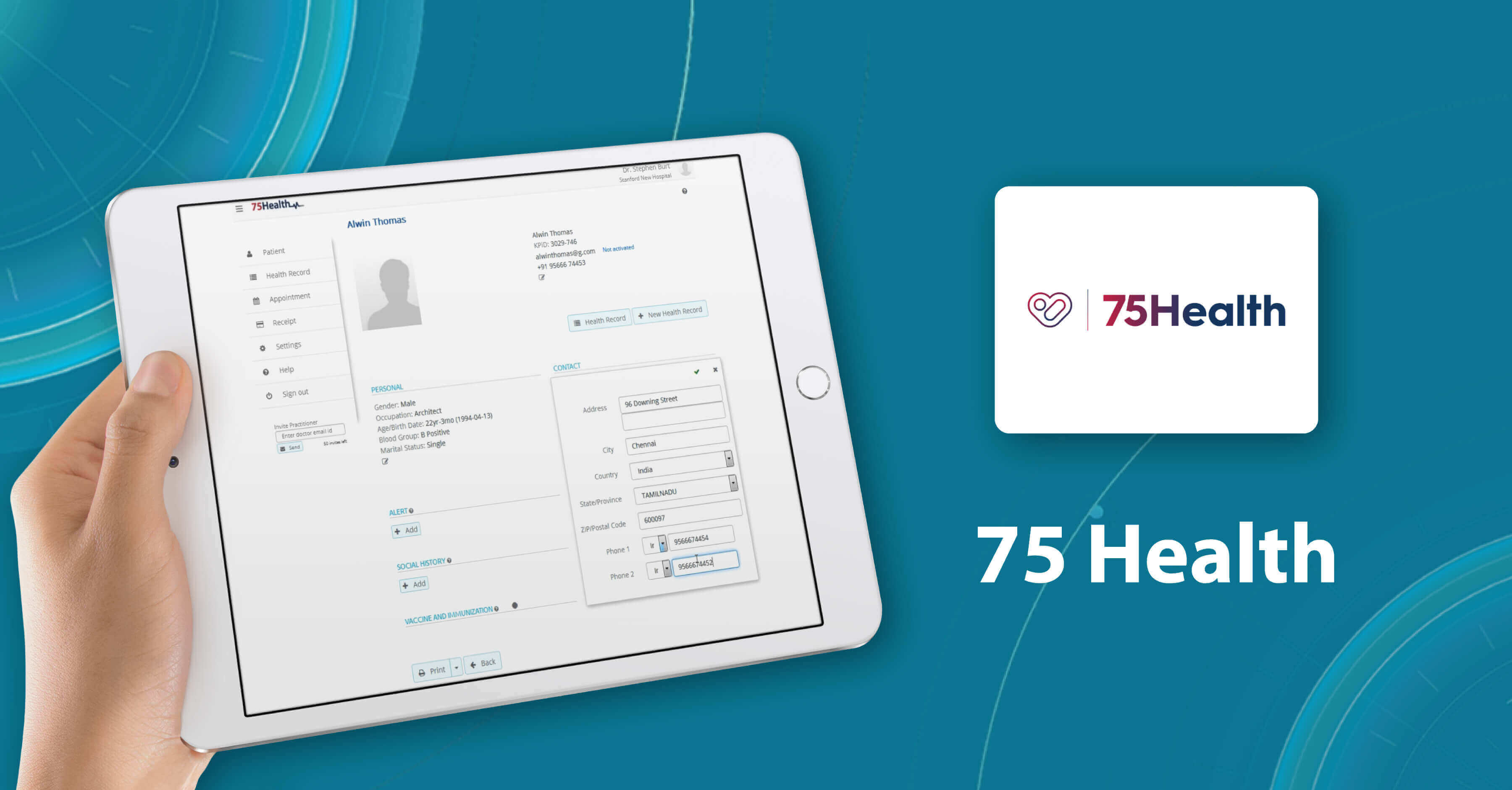 One more fully-fledged eye clinic management system is 75health, which is also a cloud-based solution that provides its users with electronic health record tools. 75health system will be most suitable for managing health records and patient information for ophthalmologists working in small and mid-sized clinics.
Eye clinic management system features of 75health Software
75health

eye hospital management software

allows ophthalmic clinic staff to download and save patients' medical images, such as consent forms, handouts, or scans.

Doctors can also create a treatment plan for their patients right in the system and scan records for allergies, medications, lab results, and symptom lists.

75health solution provides smooth integration of ophthalmic management systems, which helps ophthalmologists in decision-making.
myCare Integrity Software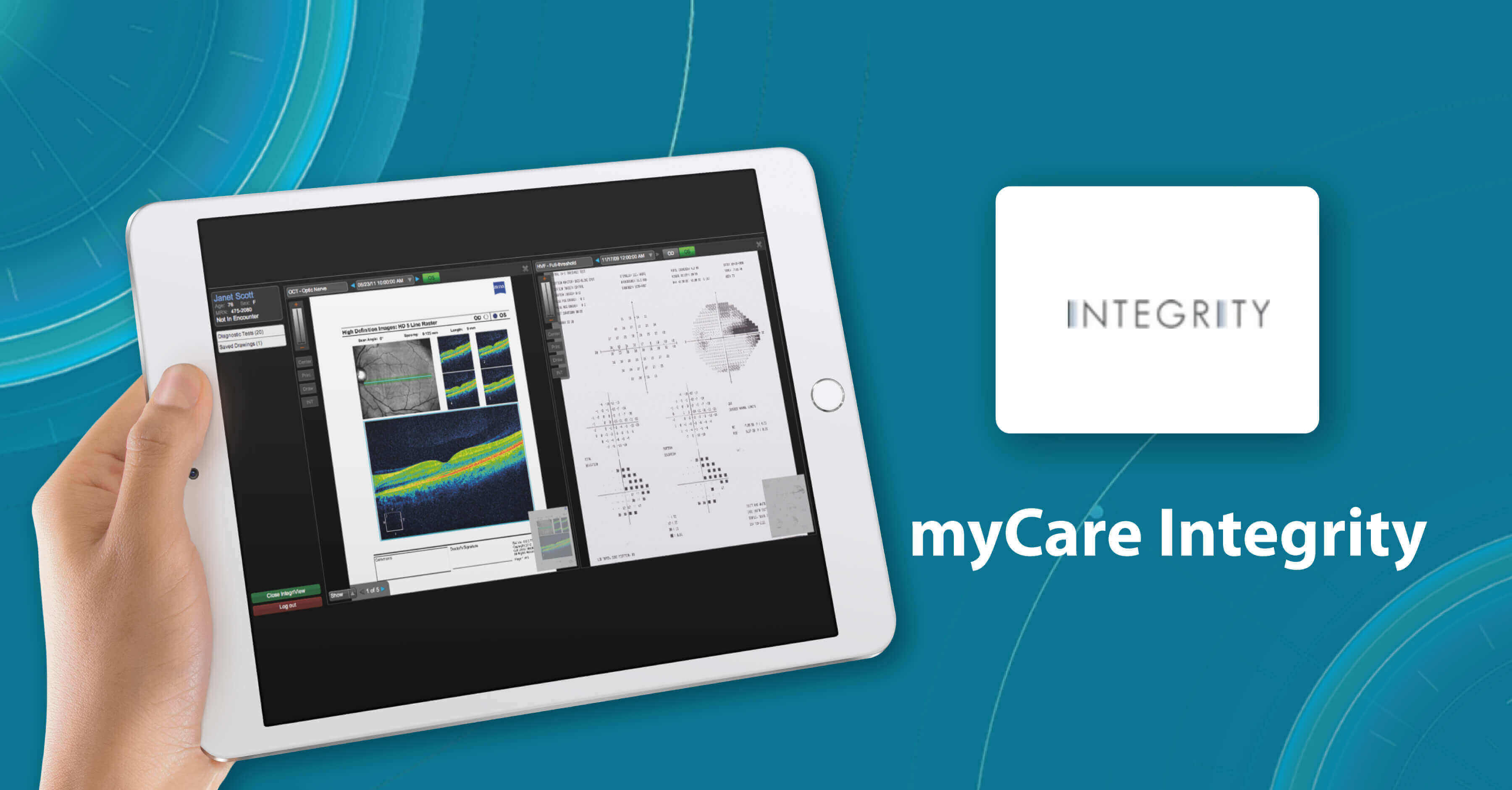 Another cloud-based eye hospital management software that is worth your attention is myCare Integrity. It was created specifically for eye care specialists and contains a strong set of tools and modules that can cover the needs of any member of the ophthalmic clinic staff: from doctors to managers.
Eye clinic management system features of myCare Integrity Software
The myCare Integrity system has an IntegriVIEW functionality that allows practitioners to link medical images directly to every screen of EMR.

There is also an IntegriDRAW module inside the

eye clinic software

, where templates are included in the application. It allows users to rely on the previously created stamps.

The IntegriLINK module allows ophthalmologists to link the diagnostic equipment to the system.

What is more, myCare Integrity eye hospital management software allows you to customize and personalize the dashboard.
Summing up
Eye hospital management software is extremely important for any clinic, whether there are 10 or 500 employees. It can help you improve your workflow by keeping a lot of data in one place. Imagine how easily you can get rid of unnecessary paperwork, forget about administrative costs, and speed up processing. In addition, with an ophthalmic practice management system, you can get 24/7 access to patients' data.
However, the key benefit of practice management software for opticians is the improvement of diagnosis and treatment. There are already ophthalmic image management systems, like Altris AI, that can not only help to manage patients' data but also provide a second opinion regarding medical image analysis. Using this knowledge, doctors can have better access to patients' health problems and reports, ultimately enabling them to provide the best care to their clients.